Razzle Dazzle Recipes - Thanksgiving Recipes
"Your Source for Turkey Recipes Online"
Turkey with Herb-and-Garlic Sour Cream Sauce Recipe

1 lb. uncooked turkey breast slices - about 1/4 inch thick

1 (16-oz.) bag baby - cut carrots

3 medium stalks celery - sliced (1 1/2 C.)

1 (14 1/2-oz.) can ready-to-serve chicken broth

1 (1.2-oz.) envelope herb-and-garlic soup mix

3/4 C. reduced-fat sour cream

2 T. all-purpose flour

2 T. Dijon mustard

Hot cooked noodles - if desired
Spray 12-inch nonstick skillet with cooking spray; heat over medium heat. Cook turkey in skillet about 5 minutes, turning once, until brown. Remove turkey from skillet.

Add carrots and celery to skillet. Stir in broth and soup mix (dry). Heat to boiling; reduce heat. Add turkey. Cover and simmer about 6 minutes, stirring occasionally, until turkey is no longer pink in center. Remove turkey and vegetables from skillet, using slotted spoon; keep warm.

Mix sour cream, flour and mustard until blended. Beat sour cream mixture into liquid in skillet with wire whisk. Heat over medium heat about 1 minute, beating constantly with whisk, just until heated through. Serve turkey and vegetables on noodles; pour sauce over turkey.
Yield: 4 servings.

Back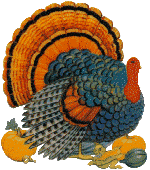 Home

Razzle Dazzle Recipes



http://www.razzledazzlerecipes.com

Don't forget to visit our other Recipe site at
That's My Home