Razzle Dazzle Recipes - Thanksgiving Recipes
"Your Source for Turkey Recipes Online"
Grilled Honey Bourbon Turkey Recipe

6 lbs. turkey breast -- whole

Marinade:

1 C. bourbon

3/4 C. dry red wine

1/2 C. dry sherry

1/3 C. soy sauce

3 T. vegetable oil

2 T. sugar

2 T. fresh rosemary - chopped

black pepper to taste

Glaze:

3/4 C. bourbon

1/3 C. honey

1/3 C. ketchup

2 T. brown sugar

Place turkey in large bowl or ziplock bag.

Stir together marinade ingredients and pour over turkey. Marinate at least 2 hours, preferably overnight in refrigerator. Remove turkey from marinade and grill, about 12 minutes per pound. stir together glaze ingredients in bowl. Brush glaze onto turkey after about 40 minutes on grill, and again when turkey is removed. Slice and serve on a platter.
Back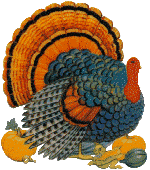 Home

Razzle Dazzle Recipes



http://www.razzledazzlerecipes.com

Don't forget to visit our other Recipe site at
That's My Home