Razzle Dazzle Recipes - Thanksgiving Recipes
"Your Source for Turkey Recipes Online"
Turkey with Honey and Ginger Glaze Recipe

12-pound turkey
1/2 cup Chablis
1-inch piece gingerroot, grated
1/3 cup honey
Salt
Pepper

Dissolve honey and wine together. Add gingerroot; sprinkle with salt and pepper; pour honey-wine mixture over bird. Cover turkey loosely with foil to prevent burning the skin. Cook at 350° F. for 25 minutes to the pound. Baste every 30 minutes. When done, you will have a delightful, dark brown glaze.
Back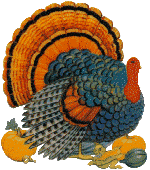 Home

Razzle Dazzle Recipes



http://www.razzledazzlerecipes.com

Don't forget to visit our other Recipe site at
That's My Home