Razzle Dazzle Recipes - Thanksgiving Recipes
"Your Source for Turkey Recipes Online"
Honey Spice Glaze for Turkey
1 12- to 16-pound turkey
1/8 t. ground red pepper
1/4 t. ground cumin
1/4 t. ground allspice
1/4 t. salt
1/2 t. garlic powder
2 t. chili powder
1 t. water
1/2 C. honey

Cook turkey as directed. Combine remaining ingredients to make glaze. With 45 minutes to an hour left to cook, brush glaze over turkey skin. If turkey is being roasted in the oven, lightly cover breast and drumsticks with foil.
Back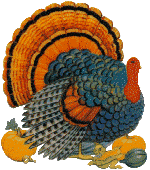 Home

Razzle Dazzle Recipes



http://www.razzledazzlerecipes.com

Don't forget to visit our other Recipe site at
That's My Home