Razzle Dazzle Recipes
"Your Source for Thanksgiving Recipes"
India Salad Recipe
1 red onion, sliced into thin rings
1 C. chopped tomatoes
1 or 2 carrots, thinly sliced lengthwise
1 C. chopped green onions
1 bunch fresh spinach, washed, dried and chopped
1 C. fresh pomegranate seeds (pomegranates are in season around Thanksgiving, but if unavailable, grapes or berries may be substituted)
1 C. finely chopped fresh pineapple
1 C. canned garbanzo beans, drained (if using dried garbanzo beans, first soak them overnight then boil in salted water until soft)
1 thinly sliced jalapeno
1 C. finely chopped cilantro
juice of one lime
1 T. whole cumin seeds, dry-roasted and ground
1 T. salt
1 T. brown sugar
Romaine lettuce leaves for garnish (optional)

Mix all the ingredients together in a large bowl. Spread the optional romaine lettuce leaves on a platter, and pile salad on top.

Makes 6 servings.
Back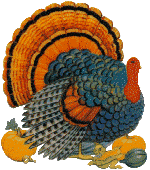 Home

Razzle Dazzle Recipes



http://www.razzledazzlerecipes.com

Don't forget to visit our other Recipe site at
That's My Home