Razzle Dazzle Recipes - Thanksgiving Recipes
"Your Source for Turkey Recipes Online"
India Spice-Rubbed Turkey with Basmati Rice
1 12 to 20 pound turkey
2 C. cooked basmati rice (cook for only 10 to 11 minutes so rice is still firm, not soggy)
1 T. whole cumin seeds
1 T. whole black peppercorns
10 whole cloves
10 whole cardamom pods, skin on
1 cinnamon stick
2 to 3 whole, dried cayenne peppers, seeds in
1 T. turmeric powder
1 T. ground cayenne pepper
1 T. salt
1 T. sugar
10 to 12 fresh mint leaves
1 C. chopped cilantro
1 C. chopped tomatoes
2 C. thinly sliced onions (red or other onions)
1 C. finely chopped green onions
1 T. peeled and grated fresh ginger
1 T. minced fresh garlic
1 C. malt vinegar
1 C. plain yogurt
juice of one lime
6 T. clarified butter or ghee (to make your own ghee, simmer 3/4 cup, or 1 1/2sticks, unsalted (not salted) butter on low heat until the milk solids separate and turn light brown, then strain liquid for use)

Directions: Set rack in bottom third of oven and preheat oven to 450°F. In a dry frying pan over medium heat, toast the dry spices (cumin, black peppercorns, cloves, cardamom and cinnamon) along with the whole, dried cayenne peppers, being careful not to let them burn. After three to four minutes, when you can see a hint of smoke and begin to smell the spices, remove contents from the pan and set them aside to cool. Once they are cool, grind them to a powder in a spice grinder or an old coffee grinder.

Rinse turkey inside and out, and pat dry completely.

In a large pot heat 4 tablespoons of the clarified butter or ghee, and begin sautéing the thinly sliced red or other onions (not the green onions) over medium-high heat. Add the sugar and continue sautéing the onions until they are light brown. Add the garlic, ginger, tomatoes, green onions, cilantro, mint, turmeric and ground cayenne pepper. Sauté these ingredients for two to three minutes, stirring, then add the yogurt, vinegar, salt and lime juice. Continue cooking until the liquid is almost gone and some oil begins to show. Pour the basmati rice into the pot. Cook, stirring gently, for about three more minutes, until the rice and spice-mixture are combined.

Place the turkey in a roasting pan or pot, and smear the remaining two tablespoons of clarified butter or ghee all over the turkey, including the cavity. Next rub the ground dry-roasted spices all over the turkey. Fill the cavity with as much basmati rice and spice-mixture as you can. If you haven't already, turn the turkey in the roasting pan so it is breast-side up, and put any remaining rice all around it.

Stick the turkey into the oven and cook, tightly covered (foil is fine), for about one hour. Reduce heat to 300°F. and continue cooking for another hour or more, checking the internal temperature of the turkey periodically with a meat thermometer. As a general guideline, the turkey is done when the internal temperature at the thickest part of the thigh reaches 180°F., and the basmati-rice stuffing reaches about 165°F.

When the turkey is done, remove it from the oven and skim any fat from the pan juices surrounding it. Serve the turkey with the basmati rice. The rice will have soaked up most of the pan juices, but spoon any remaining juices over the rice for extra flavor.

Makes 8 to 14 servings, depending on the size of the turkey.
India Salad to serve with this turkey.

Back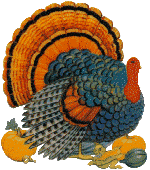 Home

Razzle Dazzle Recipes



http://www.razzledazzlerecipes.com

Don't forget to visit our other Recipe site at
That's My Home