Razzle Dazzle Recipes - Thanksgiving Recipes
"Your Source for Turkey Recipes Online"
Italian Sausage Stuffing Recipe

2 T. extra-virgin olive oil
1 medium onion, chopped
2 medium stalks celery with leaves, chopped
2 medium red bell peppers, cored, seeded and chopped
2 garlic cloves, minced
1 lb. sweet or hot Italian sausage, casings removed
1 t. dried basil
1 t. dried oregano
1/2 t. salt
1/2 t. crushed hot red pepper
7 C. day-old crusty Italian bread, cut into 1-inch cubes
1 C. freshly grated Parmesan cheese
1/2 C. butter, melted
1/2 C. dry white wine
1 1/2 C. turkey broth or reduced-sodium chicken broth

Preheat oven to 350° F. In a large skillet, heat oil over medium heat. Add onion, celery, bell peppers and garlic. Cook, stirring often, until softened, about 5 minutes. Add sausage and cook, breaking up meat with a spoon, until it loses its pink color, about 8 to 10 minutes. Stir in basil, oregano, salt and crushed red pepper. Transfer to a large bowl.

Stir in bread and Parmesan. Stir in butter, wine and enough of the stock to moisten the stuffing, about 1 cup. Use to stuff turkey.

If baking separately, add additional 1/2 cup broth to make a more moist mixture. Place in a buttered baking dish, cover and bake 30 minutes. Remove cover and bake an additional 10 minutes to form a crust.
Makes about 10 cups.

Note: If bread is very fresh, cut it into cubes, spread out on a baking sheet and let stand several hours to air-dry.

Back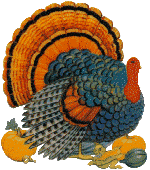 Home

Razzle Dazzle Recipes



http://www.razzledazzlerecipes.com

Don't forget to visit our other Recipe site at
That's My Home