Razzle Dazzle Recipes - Thanksgiving Recipes
"Your Source for Turkey Recipes Online"
Italian Sausage, Mushroom and Sage Stuffing
5 T. unsalted butter, softened
10 C. unseasoned dry bread cubes
1 T. olive oil
3/4 lb. mild Italian sausages
1 lb. cremini mushrooms, wiped or brushed clean, stems trimmed, and quartered
1 large yellow onion (about 12 oz.), chopped
2 large carrots, peeled and chopped
2 large ribs celery, chopped
1/2 C. fresh minced parsley
1 T. fresh thyme leaves
1 T. minced fresh sage
1 t. salt
freshly ground pepper
3 large eggs, lightly beaten
4 C. chicken stock or low-sodium chicken broth

Preheat oven to 350°F. Coat deep 9 x 13-inch baking pan with 1 tablespoon butter. Place bread cubes in very large mixing bowl. In 10-inch saute pan, heat oil over medium-high and swirl to coat pan. Cook sausages until browned on all sides. Remove and let cool. Drain all but 3 tablespoons fat. Add mushrooms to pan and saute, stirring frequently, until lightly browned, about 4 minutes. Add to bread.

Return pan to heat and add remaining 4 tablespoons butter. Swirl to coat pan and add onion, carrots and celery. Saute, stirring frequently, until soft and lightly browned, about 5 minutes. Add parsley, thyme, sage, salt and few grinds pepper, and saute 1 more minute. Combine mixture with bread.

Cut sausages into 1/4-inch rounds and add to stuffing. Add beaten eggs and stock and mix well. Place stuffing in prepared pan and bake uncovered until top is lightly browned and crusty, about 1 hour. (If you have room, bake stuffing while turkey roasts. Otherwise, bake it beforehand and reheat once turkey is out.)

Makes 12 servings.
Back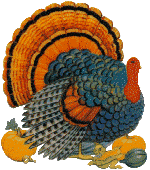 Home

Razzle Dazzle Recipes



http://www.razzledazzlerecipes.com

Don't forget to visit our other Recipe site at
That's My Home