Razzle Dazzle Recipes - Thanksgiving Recipes
"Your Source for Turkey Recipes Online"
Lemon Garlic Turkey Strips Recipe

1 lb. Honeysuckle White Turkey Breast Strips

Marinade:

1 C. dry bread crumbs, Italian Style

1/2 C. fresh lemon juice

3/4 C. bottled Italian salad dressing

2 cloves minced garlic

2 t. lemon zest

1/2 C. fresh grated parmesan cheese

Mix all marinade ingredients in a shallow glass baking dish. Add Honeysuckle White Turkey to dish, coating well with marinade. Refrigerate 30 minutes to 10 hours.
Thread turkey on skewers. Grill 12 - 15 minutes, until turkey is no longer pink in the center. Turn frequently so bread crumbs do not burn.
Sprinkle with parmesan cheese and serve with a garnish of lemon wedges.

Back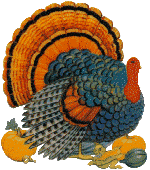 Home

Razzle Dazzle Recipes



http://www.razzledazzlerecipes.com

Don't forget to visit our other Recipe site at
That's My Home