Razzle Dazzle Recipes - Thanksgiving Recipes
"Your Source for Turkey Recipes Online"
Roast Turkey With Maple-Butter Glaze Recipe

1 (14- to 16-lbs.) fresh turkey
1/2 lemon
1 apple, quartered
1 onion, halved
3 to 4 stalks celery, cut in half
Salt to taste
1/4 lb. butter
1/2 C. maple syrup

Bring turkey to room temperature before roasting. Heat oven to 325° F. Wash and dry turkey. Stuff with lemon, apple, onion and celery. Truss; season with salt.

Melt butter in maple syrup over medium heat; pour over turkey. Place on a rack in a pan. Roast 10 to 12 minutes for each pound. Baste every 20 minutes. Use an instant-read thermometer inserted into thigh without touching bone. (Pop-up thermometers that come with turkeys are unreliable.) Thigh should register 175 to 180° F. at thickest part, breast meat 170° F. Before carving, let rest outside oven at least 20 minutes.

Makes 14 to 16 servings.
Back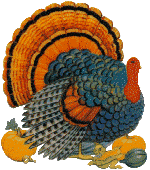 Home

Razzle Dazzle Recipes



http://www.razzledazzlerecipes.com

Don't forget to visit our other Recipe site at
That's My Home