Razzle Dazzle Recipes - Thanksgiving Recipes
"Your Source for Turkey Recipes Online"
Maple Marinated Roast Turkey Recipe

1 10-pound turkey

2 medium onion, chunked

3 celery ribs, chunked

Marinade:

1 C. fresh lemon juice

3/4 C. maple syrup

1/2 C. vegetable oil

12 cloves garlic, peeled and sliced

4 fresh thyme sprigs

3 bay leaves

1 t. black pepper

Maple Butter:

2 sticks butter

6 T. maple syrup

1/4 C. fresh lemon juice

1 T. black pepper

2 t. coarse salt

Maple Glaze:

1/4 C. maple syrup

1 T. lemon juice

Salt and pepper to taste

To marinate: Combine the marinade ingredients in a sturdy, 2-gallon zipper-lock bag. Add the turkey to the bag and seal. Set the turkey in the bag, breast side down in a large bowl and place in the refrigerator overnight.

To make maple butter: Place all ingredients in food processor and process until smooth.

To make glaze: Combine glaze ingredients in small bowl and whisk to combine. Add salt and pepper to taste.

To cook turkey: Position rack on the lowest position in oven. Preheat the oven to 350° F. Remove the turkey from the marinade and pat dry. Loosen the skin over the breast, wings, and upper thighs by gently sliding fingers underneath the skin. Rub half the maple butter beneath the skin distributing it evenly.

Rub the rest of the maple butter over the outside of the turkey. Stuff the cavity with the onions and celery. Tie the legs together loosely and place the turkey breast side up on the rack. Roast the bird about 3 hours or until a thermometer reads 180° F. Baste with maple glaze every 20 minutes. Tent with foil if browned before done.
Back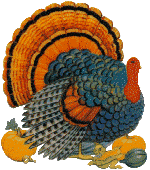 Home

Razzle Dazzle Recipes



http://www.razzledazzlerecipes.com

Don't forget to visit our other Recipe site at
That's My Home