Razzle Dazzle Recipes - Thanksgiving Recipes
"Your Source for Turkey Recipes Online"
Turkey Breast Medallions with Pecan-Honey Glaze Recipe

When you don't have time to roast a whole bird, try these quick-fixing breast slices.

1 1-1/2 lbs. skinless, boneless turkey breast or 1-1/2 lbs. turkey breast tenderloins
1 C. all-purpose flour
3/4 t. salt
3/4 t. pepper
1/2 t. your favorite dried herb (such as basil or thyme), crushed (optional)
3 eggs, slightly beaten
1/3 C. milk
1/4 C. cooking oil
1/2 C. coarsely chopped pecans, toasted
1/2 C. honey

Cut the turkey into 1/4- to 1/2-inch-thick slices. In a shallow dish, combine the flour, salt, pepper, and, if desired, dried herb. In another shallow dish, whisk together the eggs and milk. Coat turkey slices with the flour mixture, dip in the egg mixture, and then coat again with the flour mixture.

In a large skillet, heat 2 tablespoons of the oil over medium heat. Add half of the coated turkey slices. Cook over medium heat for 2 to 3 minutes per side or until turkey is no longer pink and coating is golden brown. Remove to a serving platter; cover and keep warm. Repeat with remaining turkey slices and remaining oil.

Meanwhile, in a small saucepan, combine the pecans and honey. Cook and stir over medium heat until heated through.

To serve, spoon honey mixture over the turkey slices.
Makes 6 servings.

Back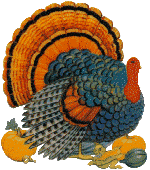 Home

Razzle Dazzle Recipes



http://www.razzledazzlerecipes.com

Don't forget to visit our other Recipe site at
That's My Home