Razzle Dazzle Recipes - Thanksgiving Recipes
"Your Source for Turkey Recipes Online"
Mesquite Grilled Cajun Turkey Recipe

3 lbs. Butterball boneless breast of turkey, thawed
vegetable oil
1 T. onion flakes
1 T. garlic powder
1/2 t. thyme leaves
1/4 t. cayenne
1/4 t. anise seed
1/4 t. ground cloves
1/4 t. ground allspice
1 bay leaf, crushed

Prepare grill using mesquite chips or coals. Brush turkey with oil. Combine remaining ingredients and sprinkle over turkey.
Place turkey on grill. Cover grill and cook according to package directions.
Wrap in foil and let stand 10 to 15 minutes. Remove netting from turkey and slice it.

Back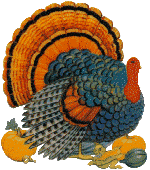 Home

Razzle Dazzle Recipes



http://www.razzledazzlerecipes.com

Don't forget to visit our other Recipe site at
That's My Home