Razzle Dazzle Recipes - Thanksgiving Recipes
"Your Source for Turkey Recipes Online"
Super-Moist Roast Turkey Recipe

12 lbs. turkey

1/2 t. salt

1/2 t. pepper

1/4 C. onions - finely chopped

1/4 C. carrots - finely chopped

1/4 C. celery - finely chopped

1/4 C. turnip - finely chopped

3 cloves garlic - thinly sliced

Preheat the oven to 325° F. Sprinkle turkey inside and out with salt and pepper. Tuck wings under turkey. Place turkey in an oven roasting bag. Scatter onions, carrots, celery, turnip and garlic over and around turkey. Fold the top of the bag over and place turkey, breast up. in a small roasting pan. Add 1 in. water.

Roast turkey 3 to 3 1/2 hours, or until a meat thermometer inserted in the thickest part of the leg (but not touching the bone) reaches 165° F. to 170° F. Carefully tear open and remove the bag. Increase the oven temperature to 450° F. Roast 30 minutes longer, or until the thermometer registers 180° F., basting with the pan juices every 5 minutes. Turkey should be golden brown.

Remove the roasting pan from the oven and carefully transfer turkey to a platter, letting the juices run back into the pan; reserve the juices for gravy. Cover the bird with foil and let stand for 20 minutes before carving.
Makes about 16 servings.

Back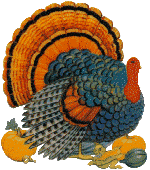 Home

Razzle Dazzle Recipes



http://www.razzledazzlerecipes.com

Don't forget to visit our other Recipe site at
That's My Home