Razzle Dazzle Recipes - Thanksgiving Recipes
"Your Source for Turkey Recipes Online"
Orange Stuffing Recipe

8 C. fresh bread cubes
1/2 C. chopped onion
1/2 C. chopped celery
2 T. butter
2 T. coarsely shredded orange peel
1 C. chopped fresh parsley
1/2 t. dried thyme
1/2 t. ground sage
2 t. salt
Black pepper
1 C. fresh orange juice

Spread the bread cubes in a large pan. Let them dry at room temperature for 1 hour or more. Saute the onion and celery in the butter until the vegetables are tender. In a large bowl, combine the bread cubes, sauteed vegetables, orange peel, parsley, thyme, sage, salt, and pepper. Sprinkle the orange juice over the bread mixture and toss until the bread cubes are lightly moistened. Stuff turkey and roast according to direction.
Back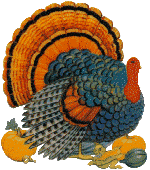 Home

Razzle Dazzle Recipes



http://www.razzledazzlerecipes.com

Don't forget to visit our other Recipe site at
That's My Home