Razzle Dazzle Recipes - Thanksgiving Recipes
"Your Source for Turkey Recipes Online"
Golden Turkey Parmigiana Recipe

2 lbs. turkey breast
3 T. lemon juice
1/3 C. olive oil
1/4 T. salt
1/4 T. white pepper
1/3 C. flour
1/2 C. Parmesan cheese, grated
6 T. butter
Lemon wedges

Bone and skin turkey breast. Place on a cutting board, smooth side up. Cut meat across the grain into large slices about 1/2 inch thick. Place turkey pieces, one at a time, between two sheets of waxed paper; pound each with flat side of a meat mallet to about 1/4-inch thickness.
Beat, or shake together, the lemon juice, oil, salt and pepper until well-combined. Pour over pounded turkey in a shallow dish; cover and refrigerate for about 1 hour.

Drain turkey, then coat turkey pieces generously with mixture of flour and cheese.

In a large frying pan heat 4 tablespoons of the butter. Quickly saute turkey slices, 4 or 5 at a time, until lightly browned on each side, 3-5 minutes per side, adding more butter as needed. Keep cooked turkey warm in a 250° F. oven while cooking remainder of slices. When cooked, serve at once with lemon.
Back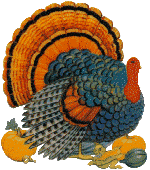 Home

Razzle Dazzle Recipes



http://www.razzledazzlerecipes.com

Don't forget to visit our other Recipe site at
That's My Home