Razzle Dazzle Recipes - Thanksgiving Recipes
"Your Source for Turkey Recipes Online"
Pear Pecan Stuffing Recipe

1 pound firm-texture white sandwich bread

2 T. butter (no substitutes)

1 large onion, chopped (1 cup)

2 large firm ripe Bartlett pears, cored, peeled, and chopped

1/2 to 3/4 C. water

1/4 C. butter (no substitutes)

1 C. pecan halves, toasted and coarsely chopped

2 T. snipped fresh Italian parsley

1/4 t. freshly grated nutmeg

1/8 t. salt

Dash freshly ground black pepper

Preheat oven to 350° F. . Spread bread slices on baking sheets. Place baking sheets in the preheated oven for 20 minutes or until bread is dry.

Place the 2 tablespoons butter, the onion, and pear in a large skillet; cook over medium heat until tender but not brown, about 4 minutes. Set aside.

Break the dried bread into small pieces. Place in a very large bowl. Bring 1/2 cup water and the 1/4 cup butter to boiling in a small saucepan. Add to bread crumbs, and toss just until moistened.

Stir in pear mixture, pecans, parsley, nutmeg, salt, and pepper. Add the remaining water as needed until mixture reaches desired moistness. Stuff turkey and roast in a 325° F. oven or transfer stuffing to a 2-quart casserole and bake, covered in a 325° F. or 350° F. oven about 40 minutes or until heated through.
Makes 12 to 14 servings.

Back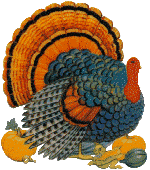 Home

Razzle Dazzle Recipes



http://www.razzledazzlerecipes.com

Don't forget to visit our other Recipe site at
That's My Home