Razzle Dazzle Recipes - Thanksgiving Recipes
"Your Source for Turkey Recipes Online"
Traditional Holiday Roasted Turkey Recipe

2 10- to 12-pound turkeys, completely thawed
1 large onion, sliced in large slices
4 sprigs fresh rosemary
1 bunch thyme, washed and divided into two smaller bunches
1/4 C. olive oil
Salt and pepper
Browning/Basting Sauce:
1 stick unsalted butter, melted
1/2 C. olive oil
2 T. paprika

Remove the packages of gizzards from both turkeys.

Place sliced onions, rosemary and fresh thyme in the cavities of the two thawed turkeys.

Brush the olive oil over each bird and sprinkle salt and pepper on top of the olive oil.

Make two large crossed with heavy-duty foil and place one turkey on the center of each cross; wrap tightly.

Line a heavy cookie or baking sheet with foil, making a kind of "boat" with foil to catch any juices that may escape during or after cooking.

Put the turkeys on the heavy cookie sheet (or two cookie sheets stacked together). You can put the two turkeys on one baking sheet, but leave at least 6 inches of space in between the two turkeys for even cooking.

Roast the turkeys at 425° F. for 10 minutes, then reduce the heat to 375° F. for 20 minutes to the pound.

When the turkeys are done, carefully remove the foil from around each turkey. Remove excess drippings with a ladle and add to the dressing or gravy if needed.

Brush each cooked turkey with the whisked butter, olive oil and paprika mixture for basting and return them to the oven for 10 to 15 minutes at 400° F. or until they are golden brown.

Be very careful removing the turkeys with their drippings in the foil. Drain as much liquid out of the foil as possible with a ladle, then move the cooked turkeys in the foil to a warm serving platter.

Fold the foil around the best-looking, centerpiece turkey to keep it from wobbling, and hide the foil with parsley. Slice the homelier of the two turkeys and place around the whole turkey.

For the gravy, you can make the broth several days ahead of time. Freeze it if you are making it more than four days in advance. Thaw to complete the gravy.

Turkey Gravy

For the broth: 2 tablespoons olive oil Neck and gizzard from the turkey 1 large onion, sliced thick 4 stalks celery, washed and coarsely chopped 2 carrots, peeled and cut into large chunks 4 to 5 sprigs fresh thyme, washed, or 1 tablespoon dried Salt and pepper to taste 8 cups water

Heat the oil in a heavy boiler; add necks and gizzards. Cook until they are almost browned. Add onions, celery and carrots and cook until they are fairly limp. Add water a little at a time, scraping the browned parts that stick to the skillet.

Cook at a low boil for 10 minutes. You can add 1 cup white wine or vermouth, or 1 can chicken broth. You should have about 9 cups of liquid. Cook covered for two hours. Remove the lid and reduce the liquid to about 2 cups. Add the herbs, salt and pepper and let cool. Strain just before using.

For the gravy:

Heat 2 tablespoons unsalted butter and 1 tablespoon olive or vegetable oil in a heavy pot or deep skillet. Add 3 tablespoons plain white flour and whisk until completely blended for about 3 or 4 minutes over medium heat. Cook until the flour is cooked and slightly browned.

Add the strained broth a little at a time, whisking constantly to keep all lumps out of the gravy. Add 1 cup heavy cream or milk and whisk until smooth. Add 1 tablespoon dried thyme and salt and pepper to taste. Add more cream or any canned chicken broth if the mixture is too thick. It should be pourable.
Back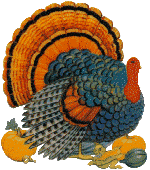 Home

Razzle Dazzle Recipes



http://www.razzledazzlerecipes.com

Don't forget to visit our other Recipe site at
That's My Home