Razzle Dazzle Recipes - Thanksgiving Recipes
"Your Source for Turkey Recipes Online"
Roasted Turkey Breast
1 1/2 C. kosher salt or 3/4 C. table salt (no iodine)
1 1/2 C. sugar
1 6- to 8 lb. fresh, whole, bone-in, skin-on turkey breast, rinsed
4 T. unsalted butter, 3 T. softened, 1 T. melted
1/4 t. pepper

Mix the salt and sugar in 1 1/2 gallons cool water in a large, clean stockpot until completely dissolved. Prepare the turkey by cutting out the remaining portion of the neck and reserve it for another use, such as stock. Scrape the meat away from the wishbone to facilitate carving. Pull the wishbone out with your hands.

Set the turkey breast in the brine, making sure it is submerged. Cover and refrigerate 5 hours.

Twenty minutes before roasting, adjust the oven rack to the middle position and heat the oven to 450° F. Mix the softened butter with the pepper in a small bowl. Set aside.

Remove the turkey breast from the brine and rinse inside and out under cool running water, and pat dry. Cut off the extra flap of skin at the neck end, leaving a 1-inch overhang. Cut the flap in half and set it aside. Being careful not to tear the delicate membrane around the perimeter of the breast, release the skin on either side of the breastbone to form 2 pockets. Insert a piece of reserved skin flap under the released skin on either side of the breastbone point, pushing it as far into the breast as possible.

Rub butter under the released skin; brush the breast skin with melted butter. Place the prepared turkey, skin side up, on a lightly oiled adjustable V-rack set in a roasting pan. Position the breast so that the narrow pointed end sits lower in the rack than the larger neck end.

Place the breast in the oven, the wide neck end toward the oven's rear. Pour 1/2 cup water over the pan bottom to prevent the drippings from burning. Roast 15 minutes, then rotate the roasting pan. Roast until the skin turns golden, 15 minutes longer. Reduce the oven temperature to 325° F.; continue to roast the breast, rotating the pan once, about halfway through cooking, until the internal temperature in the deepest part of the breast registers 160 to 165° F., 30 to 45 minutes longer.

Remove the turkey breast from the oven. Let stand 20 minutes. Carve and serve.
Serves 6 - 8.

Back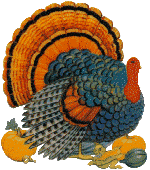 Home

Razzle Dazzle Recipes



http://www.razzledazzlerecipes.com

Don't forget to visit our other Recipe site at
That's My Home