Razzle Dazzle Recipes - Thanksgiving Recipes
"Your Source for Turkey Recipes Online"
Rosemary Turkey with Cranberry Orange Sauce Recipe

1 lb. Honeysuckle White turkey breast cut into chops (or use medallions cut from tenderloin). You can also use White boneless turkey or boneless turkey breast - follow roasting instructions on package, and serve with cranberry orange sauce.

1 t. dried rosemary leaves
salt and pepper, if desired
1/3 C. purchased cranberry sauce
1/4 C. mandarin oranges or chopped fresh orange sections
1/4 t. ginger

Sprinkle turkey with rosemary, salt, and pepper. Spray large nonstick skillet with non-stick cooking spray. Heat over medium-high heat until hot Add turkey. Cook 10 to 15 minutes or until turkey is golden brown, tender, and no longer pink in the center, turning once. Add remaining ingredients. Cook until heated through.
4 servings.

Tips: Serve with mashed potatoes or stuffing, if desired. Add 1 tablespoon oil to skillet if turkey begins to stick. Sauce can be served over leftover cooked turkey slices from a whole bird. Add rosemary, salt, and pepper to sauce. Turkey can be broiled or grilled, if desired.
Back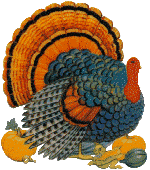 Home

Razzle Dazzle Recipes



http://www.razzledazzlerecipes.com

Don't forget to visit our other Recipe site at
That's My Home