Razzle Dazzle Recipes - Thanksgiving Recipes
"Your Source for Turkey Recipes Online"
Turkey with Squash Dressing Recipe

1 pkg. (19 oz.) cornbread mix
1 C. onions, chopped
1 C. celery, chopped
1/4 C. butter or margarine, melted
2 T. all-purpose flour
1-1/2 t. salt
1/2 t. pepper
1 C. milk
2 C. American cheese, shredded
6 eggs, slightly beaten
4 pkg. (10 oz. each) frozen yellow squash, cooked and drained
1 (12 to 14 lb.) turkey
Salt
Vegetable oil

Prepare cornbread mix according to package directions. Cool on a wire rack. Cut cornbread into 1/2-inch cubes. Let stand in a loosely covered bowl for 8 hours.
Sauté onion and celery in butter until crisp-tender. Add flour, 1-1/2 teaspoons salt, and pepper, stirring until smooth. Cook 1 minute, stirring constantly. Reduce heat to medium; gradually add milk. Cook, stirring constantly, until mixture is thickened and bubbly. Add cheese, stir until cheese melts. Gradually stir about one-fourth of hot mixture into eggs; add to remaining hot mixture, stirring constantly. Combine cornbread, squash, and cheese sauce in a large bowl; mix well. Set aside.

Remove giblets and neck from turkey. Rinse turkey with cold water; pat dry. Sprinkle cavity of turkey with salt. Lightly spoon 1/2 cup of dressing into the neck cavity. Pull neck skin to back of turkey; fasten securely with a small skewer. Lightly spoon half of remaining dressing into the body cavity; do not pack.
Close cavity with skewers or wooden picks, and truss. Tie ends of legs to tail with cord; lift wingtips up and over back so that they are tucked under bird. Brush entire turkey with vegetable oil. Place on a roasting rack, breast side up. Insert meat thermometer in breast or meaty part of thigh, making sure it does not touch bone.
Bake at 325°F until meat thermometer reaches 185°F (about 3 to 3-1/2 hours). If turkey starts to brown too much, cover loosely with foil. When turkey is two-thirds done, cut the cord or band of skin holding the drumstick ends to the tail; this procedure will ensure that the insides of the thighs are cooked. Turkey is done when drumsticks are easy to move up and down. Remove to serving platter; let stand 20 to 30 minutes before carving. Spoon remaining dressing into a greased 12x8x2-inch baking dish. Bake at 350°F for 25 to 30 minutes.

Yield: 12 to 14 servings
Back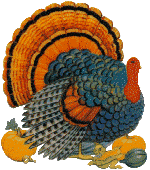 Home

Razzle Dazzle Recipes



http://www.razzledazzlerecipes.com

Don't forget to visit our other Recipe site at
That's My Home