Razzle Dazzle Recipes - Thanksgiving Recipes
"Your Source for Turkey Recipes Online"
Stuffin' Muffins Recipe
2/3 C. dark or golden raisins (or a mixture of both)
1 3/4 C. milk
2 T. olive oil
1/2 C. finely diced tart green apple
1/2 C. finely chopped walnuts
1/3 C. applesauce, unsweetened
2 t. dried Italian herb seasoning
2 T. minced onion
1 T. sugar
1 1/2 t. salt
1/8 t. black pepper
2 1/2 C. all-purpose flour
5 t. baking powder

In a small bowl, cover the raisins with water and let sit 1 minute, then drain. Allow raisins to stand for 30 minutes to absorb the moisture that remains on their skins.

Preheat the oven to 400°F. Grease standard muffin tins, line them with cupcake papers or spray them with nonstick cooking spray.

In a medium bowl, whisk together the milk, oil, apple, applesauce, walnuts, herbs, onion, sugar, salt and pepper.

Combine the flour and baking powder and sift together. Add the flour mixture and raisins to the milk mixture and stir with a fork until the batter is blended.

Spoon batter into prepared muffin tins, filling each cup almost full. Bake for 25 to 30 minutes or until a toothpick inserted in the center of the muffin comes out clean. Remove from the tins and transfer the muffins to a rack to cool slightly. Serve warm.
Makes 12 muffins.

Back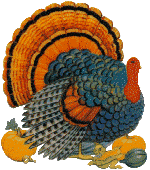 Home

Razzle Dazzle Recipes



http://www.razzledazzlerecipes.com

Don't forget to visit our other Recipe site at
That's My Home