Razzle Dazzle Recipes - Thanksgiving Recipes
"Your Source for Turkey Recipes Online"
Stuffed Turkey Breast Recipe

4-pound boneless turkey breast, skin on

Stuffing:
2 cloves garlic, chopped
1 C. baby spinach
1/4 C. chopped parsley
1/4 C. chopped chives
2 T. chopped fresh tarragon, or 2 t. dried
Salt and freshly ground pepper
1/4 C. olive oil

Roasted garlic butter:
2 T. roasted garlic purée
3 T. softened butter

Sauce:
2 T. balsamic vinegar
1/2 C. orange juice
2 C. chicken stock

Lay turkey skin side down on board. Combine garlic, spinach, herbs, salt and pepper in food processor. Add oil and process until puréed. Stuff turkey breast with mixture.

Combine roasted garlic and butter. With fingertips, separate skin from meat to make a pocket. Spread garlic butter inside. Skewer with toothpicks to hold it closed and tie in 2-inch sections so the breast holds its shape.

Preheat oven to 375° F. Roast for 1 hour and 30 minutes, or until a thermometer reads 160° F, or juices run clear. Baste occasionally. Let rest for 10 minutes. Skim fat from roasting pan; add balsamic vinegar, orange juice and stock. Bring to boil, scraping up any bits in the pan. Boil until sauce is slightly thickened. Slice turkey and drizzle with sauce.
Serves 6.
Back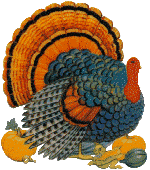 Home

Razzle Dazzle Recipes



http://www.razzledazzlerecipes.com

Don't forget to visit our other Recipe site at
That's My Home