Razzle Dazzle Recipes - Thanksgiving Recipes
"Your Source for Turkey Recipes Online"
Moist and Tender Turkey with Gravy (Crockpot) Recipe

1 (15-oz.) can chicken broth

2 C. water

2 stalks celery, cut into large pieces

1 medium onion

1/4 C. reduced-fat margarine

1/2 to 1 t. Nature's Season

1 (4-6-lb.) turkey breast, thawed

1/4 C. of shake-and-blend flour

1/2 C. cold water

In a slow cooker, combine broth, water, celery, onion, margarine and Nature's Season. Heat on HIGH until it simmers.

Add turkey, breast side down, cover and cook on HIGH for 4 to 6 hours. Turkey is done when the temperature reaches 180º F.

When turkey is cooked, remove from slow cooker and let stand for 10 minutes before slicing.

Meanwhile, to prepare gravy, strain vegetables, and put broth into a large nonstick skillet. Heat to boiling. Mix shake-and-blend flour with cold water and stir until flour is dissolved. Pour flour mixture into broth and heat, stirring constantly, until gravy is thick and bubbly. Serve with hot sliced turkey.

Makes 10 servings.

Back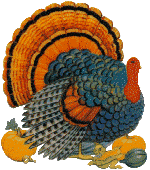 Home

Razzle Dazzle Recipes



http://www.razzledazzlerecipes.com

Don't forget to visit our other Recipe site at
That's My Home