Razzle Dazzle Recipes - Thanksgiving Recipes
"Your Source for Turkey Recipes Online"
Homestyle Turkey Breast

1 bone in turkey breast (5 - 6) pounds

1 lemon

1 can (14.75 oz.) turkey gravy

1 C. water

2 T. Dijon mustard

1/2 t. dried oregano leaves

1/2 t. dried basil leaves

1/2 t. salt

1/4 t. ground black pepper

Preheat oven to 325. Rinse turkey with cold water; pat dry. Trim excess fat, if necessary. Place, breast-side up, in a roaster pan with rack.
Juice lemon; pour juice into small batter bowl. Add remaining ingredients; mix well. Pour gravy mixture over turkey, coating well.

Bake 30 minutes; baste turkey with pan juices. Continue baking 2 hours, 30 minutes to 3 hours, basting every 30 minutes until meat registers 170° F. in thickest part of turkey breast and juices run clear.

For gravy, strain pan juices; skim off fat, if necessary. Carve turkey into slices after turkey has rested 15 minutes. Serve with gravy.

Yield: 10 servings

Back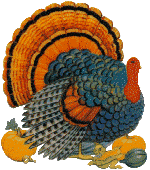 Home

Razzle Dazzle Recipes



http://www.razzledazzlerecipes.com

Don't forget to visit our other Recipe site at
That's My Home