Razzle Dazzle Recipes - Thanksgiving Recipes
"Your Source for Turkey Recipes Online"
Turkey and Pecan Casserole Recipe

8 C. turkey - cooked & cubed
1/2 t. mixed vegetable seasoning
8 t. butter
4 cloves garlic - minced
2 t. scallions - chopped
6 t. brandy
1 C. white wine
2 t. tomato paste
6 t. whole wheat flour
1 C. mushrooms - chopped
2 C. broth
1 lb. pecans
1 1/2 C. sour cream
1/2 C. fresh parsley - chopped

Season turkey with mixed vegetable seasoning. In skillet, melt 1/2 of butter and brown turkey; place turkey in ovenproof casserole with lid.

In same skillet, saute garlic and scallions. Add brandy and wine; increase heat and boil about 1 minute.

Reduce heat to low and whisk in tomato paste, and flour. Cook, stirring until smooth. Add mushrooms and broth. Pour sauce over turkey in casserole. Add pecans.

Bake covered 35 to 40 minutes or until turkey is tender. Remove from oven.

Spoon about 2 cups of turkey sauce into bowl; stir in sour cream; return to casserole, stirring until thoroughly combined.

Return to oven and bake covered about 10 minutes. Sprinkle with parsley and serve.
Servings: 6 - 8 servings.
Back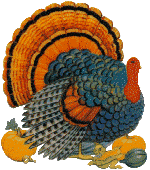 Home

Razzle Dazzle Recipes



http://www.razzledazzlerecipes.com

Don't forget to visit our other Recipe site at
That's My Home