Razzle Dazzle Recipes - Thanksgiving Recipes
"Your Source for Turkey Recipes Online"
Sauteed Turkey Cutlets in Mushroom Sauce Recipe

4 turkey breast cutlets (1 pound)
2 T. all-purpose flour
salt and pepper
2 T. olive or canola oil
4 oz. mushrooms, sliced
3/4 C. chicken stock
1/4 C. vermouth or chicken stock
1 T. cornstarch
2 T. low-fat sour cream
2 T. minced parsley

Place 1 turkey cutlet between 2 sheets of wax paper. With a rolling pin, pound the cutlet lightly to flatten it; repeat with the others.

Spread flour on a plate and season with a pinch each of salt and pepper. Dredge the cutlets with the flour, patting the flour into both sides of the cutlets.

In a nonstick skillet, heat the oil. Over moderate heat, sauté 2 cutlets at a time, about 2 minutes on each side, until golden and cooked through.

Transfer the cutlets to a platter, cover with aluminum foil, and keep warm. Remove the skillet from the heat and spoon off all but 1 tablespoon of the oil.

Sauté the mushrooms about 1 minute. Add the 3/4 cup stock and simmer 2 to 3 minutes. In a bowl, blend vermouth or stock with cornstarch; add to skillet and simmer, stirring.

When the sauce is thickened, remove the skillet from the heat and stir in the sour cream and parsley until blended. Season with pepper. Pour the sauce over the cutlets.

Serves 3 - 4.

Back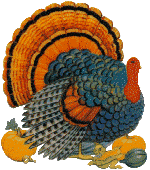 Home

Razzle Dazzle Recipes



http://www.razzledazzlerecipes.com

Don't forget to visit our other Recipe site at
That's My Home