Razzle Dazzle Recipes - Thanksgiving Recipes
"Your Source for Turkey Recipes Online"
Turkey Parmigiana Recipe

1 lb. uncooked turkey breast slices
1 egg
1 T. water
1/2 C. dry breadcrumbs
2 T. butter
1 t. minced garlic
1 (8-oz.) can tomato sauce
4 oz. mozzarella cheese slices
1/4 C. grated Parmesan cheese

Preheat oven to 350° F. Cut turkey breasts in half and flatten gently between two pieces of wax paper. Whisk egg with water in a shallow pan. Place breadcrumbs in another shallow pan. Dip flattened turkey slices first in egg mixture, then into crumbs.

Melt 1 tablespoon of the butter in a skillet or ovenproof/stovetop dish. Brown half the turkey slices on both sides, being careful not to overcook. Remove from skillet and place in a baking dish. Melt the rest of the butter and brown remaining slices, then place them in the baking dish.

Stir the garlic into the tomato sauce, then pour over turkey. Top with the cheeses. Bake 20­25 minutes or until bubbly.
Makes 4 servings.
Back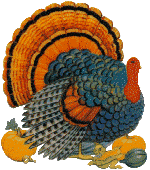 Home

Razzle Dazzle Recipes



http://www.razzledazzlerecipes.com

Don't forget to visit our other Recipe site at
That's My Home