Razzle Dazzle Recipes - Thanksgiving Recipes
"Your Source for Turkey Recipes Online"
Turkey Poached with Vegetables Recipe

7- to 10-pound turkey

2 lemons

2 quarts chicken stock

1 bottle dry white wine (such as Sauvignon Blanc)

Salt to taste

Black pepper to taste

1 T. fresh rosemary leaves

5 leeks, washed cut into chunks

2 ribs celery, washed, cut into chunks

8 carrots, washed, cut into chunks

12 new potatoes, washed, quartered

1 1/2 pounds small fresh green beans, washed, snapped

Rub the turkey inside and out with the cut side of the lemon. Put it in a large lidded kettle and cover with the stock and wine. Add water if necessary to cover. Bring mixture just up to a gentle bubbling simmer and add salt and pepper to taste and rosemary.

Let it poach about 1 1/4 hours, or until tender. About 45 minutes before serving, drop in leeks. About 35 minutes before serving, drop in potatoes, celery and carrots. About 15 minutes before serving drop in green beans.

The instant the turkey is done, carefully remove the bird from the liquid and carve it. Place on a platter and surround with hot vegetables. Serve with hollandaise, aioli or mustard vinaigrette.
Back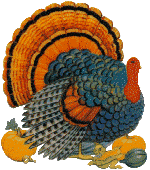 Home

Razzle Dazzle Recipes



http://www.razzledazzlerecipes.com

Don't forget to visit our other Recipe site at
That's My Home