Razzle Dazzle Recipes - Thanksgiving Recipes
"Your Source for Turkey Recipes Online"
Herb Roasted Turkey on Vegetables Recipe

1 12- to 14-pound fresh turkey

Coarse salt

Pepper to taste

Several sprigs each of parsley, sage, rosemary and thyme

2 to 3 onions, cut into wedges

4 to 5 carrots, cut into 3-inch lengths

4 to 5 stalks celery, including leafy tops, cut into 3-inch lengths

1 to 2 C. water

Olive oil

Heat oven to 400° F. Remove bags of organs and neck from turkey cavity. Save neck (and gizzards, if you want for gravy); discard remainder. Rinse turkey and pat dry. Clip off wing tips. Sprinkle cavity with salt and pepper, and stuff with fresh herbs.

Arrange vegetables, wing tips and neck in a large, heavy roasting pan, making sure the vegetables are more or less flat in the bottom of the pan. Add water.

Truss legs together with kitchen twine, if desired. Rub bird with olive oil. Salt and pepper lightly. Place bird, breast side down, on bed of vegetables in roasting pan. Vegetables should keep turkey from touching pan, much like a rack.

Roast turkey for 20 minutes. Reduce temperature to 300° F. Baste every 30 minutes with pan juices for remainder of cooking time, about 3 hours.

When a meat thermometer placed between a drumstick and thigh reads 140° F., flip over the turkey and roast for another 30 minutes. When thigh temperature reaches 180° F., the turkey is ready.

Remove from oven and transfer to serving plate. Let turkey rest for at least 20 minutes -- and up to 45 minutes -- before carving.

Serves 8 to 10.

Gravy: Strain roasting pan juices into a tall container. Allow fat to separate from the broth. Skim the fat from the top of the broth with a ladle.

For a traditional gravy, combine the fat with equal amount of flour and stir over medium heat to incorporate, then cook 4 to 5 minutes. Add to simmering broth a little at a time to thicken gravy to desired consistency.

For low-fat gravy, discard the fat from broth. Puree roasted vegetables. Return defatted broth to roasting pan and add pureed vegetables until you reach desired consistency. Heat through.

Source: Chef Paul Mattison, Mattison's, St. Petersburg.
Back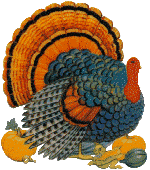 Home

Razzle Dazzle Recipes



http://www.razzledazzlerecipes.com

Don't forget to visit our other Recipe site at
That's My Home