Razzle Dazzle Recipes - Thanksgiving Recipes
"Your Source for Turkey Recipes Online"
Wild Rice Stuffing with Cranberries, Bacon and Pecans Recipe

1 1/4 C. uncooked wild rice
4 slices bacon, cut into 1-inch pieces
1 C. chopped onion
1 can (14 oz.) chicken broth
1/2 C. water
2 T. Dry sherry (optional)
1 t. dried thyme, crushed
2 C. chopped fennel or celery
3/4 C. dried cranberries or chopped dried apricots
1/2 C. chopped pecans, toasted

Rinse wild rice in cold water. Drain well; set aside. In a large saucepan, cook bacon over medium heat until crisp. Remove bacon, reserving 1 T. drippings in saucepan. Drain bacon; set aside.

Add onion to saucepan; cook until tender, stirring occasionally. Add wild rice; cook and stir for 3 minutes. Add chicken broth, water, sherry and thyme. Bring to boil; reduce hat. Cover and simmer for 10 minutes. Remove from heat. Stir in fennel and dried cranberries.

Meanwhile, neat over to 350° F. Transfer rice mixture to a 2-quart casserole. Cover and bake for 45 - 55 minutes or until rice is tender and liquid is absorbed, stirring once. Stir in pecans and bacon. Serves 8.

Back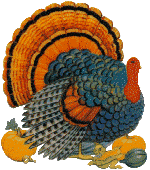 Home

Razzle Dazzle Recipes



http://www.razzledazzlerecipes.com

Don't forget to visit our other Recipe site at
That's My Home