Razzle Dazzle Recipes - Thanksgiving Recipes
"Your Source for Thanksgiving Recipes Online"
Cranberry Waldorf Salad

2 eggs
1/3 C. sugar
1/4 C. orange juice
2 T. water
2 T. grated orange peel

Salad:

2 C. fresh or frozen cranberries, whole
2 medium oranges, peeled and chopped (about 1 C.) or 1 can drained mandarin oranges
1 large apple, chopped (about 1 c.)
1 C. chopped dates
1/3 C. chopped walnuts
2 C. miniature marshmallows

In a 4-cut measure, beat eggs well with a whisk. Add the remaining dressing ingredients. Beat with a whisk until the mixture is smooth. Microwave at 50% (medium) for 4-6 minutes, or until the mixture thickens, beating with a whisk every 2 minutes. Chill about 2 hours, or until cold.

In a large mixing bowl, combine the salad ingredients.* Spoon the dressing over the salad. Toss gently to coat.

Advance Preparation: Up to 1 day in advance, prepare as directed to * above, except omit the marshmallows. Cover and refrigerate the dressing and salad in separate containers. To serve, add the marshmallows to the salad. Spoon the dressing over the salad. Toss gently to coat.

Back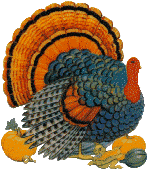 Home

Razzle Dazzle Recipes





http://www.razzledazzlerecipes.com

Don't forget to visit our other Recipe site at
That's My Home

Happy Thanksgiving!