Razzle Dazzle Recipes
"Your Source for Thanksgiving Recipes"
Shaker Whipped Winter Squash with Cape Cod Cranberries
3 lbs. winter squash, peeled and cubed, about 12 cups
2 C. fresh cranberries
1/2 C. light brown sugar
6 T. butter, cut in pieces
1 T. chopped fresh sage plus a few leaves for garnish
Salt and black pepper

Bring about 4 cups of salted water to a boil in a large pot. Add the squash and cook, uncovered, over medium heat until it is almost, but not quite tender, about 15 minutes. Add the cranberries and continue to cook until the squash is very tender and the cranberries burst, about 10 minutes more. Drain briefly in a large sieve and return to the pot.

Using a potato masher or electric mixer, mash or beat the mixture to make a coarse puree. Beat in the brown sugar, butter and sage until smooth, and season with salt and pepper to taste. (If not serving immediately, transfer to an ovenproof serving dish and set aside at cool room temperature or refrigerate for up to 1 day. Cover with foil and reheat in a 350°F. oven for 15 to 25 minutes.

Serve hot, garnished with sage leaves.
Serves 6 to 8.
Back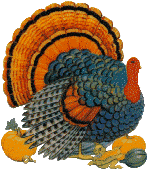 Home

Razzle Dazzle Recipes





http://www.razzledazzlerecipes.com

Don't forget to visit our other Recipe site at
That's My Home

Happy Thanksgiving!