Razzle Dazzle Recipes
"Your Source for Thanksgiving Recipes"
Wild Rice with Pecans Recipe
1 C. uncooked wild rice
5 1/2 C. reduced-sodium chicken broth
1 C. dried cherries
1 C. pecan halves
4 green onions, washed, ends removed, thinly sliced
Grated peel of 1 orange
1/3 C. orange juice
2 T. olive oil
Salt and freshly ground black pepper to taste

Place the rice in a strainer and rinse thoroughly under cold water. In a medium, heavy saucepan, place the rice. Add the chicken broth and heat to boiling. Reduce the heat and simmer, uncovered, 45 minutes to 1 hour or until the rice is tender. Drain and place in a bowl. Add the cherries, pecans, green onion, orange peel, orange juice, olive oil and salt and pepper; toss gently. Let stand at least 2 hours for the flavors to develop. Serve at room temperature or heat before serving.

Makes 8 servings.
Back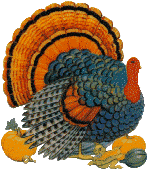 Home

Razzle Dazzle Recipes





http://www.razzledazzlerecipes.com

Don't forget to visit our other Recipe site at
That's My Home

Happy Thanksgiving!