Cake Recipes
Car Birthday Cake Recipe
Birthday Recipes
Car Birthday Cake

1 package pound cake mix
3/4 cup water or milk
2 eggs
1-1/2 tubs vanilla ready-to-spread frosting
Food colors
Tray or cardboard, 13x9 1/2 inches, covered
4 creme-filled chocolate sandwich cookies
1 tube (0.68 ounce) black or brown decorating gel
Black and yellow licorice beans
1 white gum ball
2 red gum balls
Silver nonpareils

Heat oven to 350 degrees. Grease and flour 2 loaf pans, 8 1/2x4 1/2x2 1/2 inches. Make cake mix as directed on package, using water or milk and eggs. Pour into pans.

Bake 33 to 40 minutes or until toothpick inserted in center comes out clean. Cool 10 minutes; remove from pans to wire rack. Cool completely, about 1 hour.

Cut and remove 3 inches from end of 1 loaf. Position pieces as shown in diagram for desired automobile. Freeze cut pieces uncovered about 1 hour for easier frosting if desired.

Reserve 1/2 cup of the frosting. Tint remaining frosting with food color. Place whole loaf on tray. Frost top with 1/3 cup tinted frosting. Top with cut layer, positioning for desired car. Trim corners for more rounded look if desired. Attach cookies for wheels, using small amount of frosting. Draw outline of windows with sharp knife. Frost windows and hubcaps with reserved white frosting. Frost sides and top of car with remaining tinted frosting, building up around wheels for fenders.

Outline windows, hood, doors and bumpers with decorating gel. Use licorice beans for grill, door handles and signal lights. Cut gum balls in half; use for headlights and taillights. Make spoke markings on wheel with knife. Press 1 silver nonpareil in center of each wheel. Use silver nonpareils for hood ornament if desired. Silver nonpareils are not edible; remove them before eating cake.
Makes 14 servings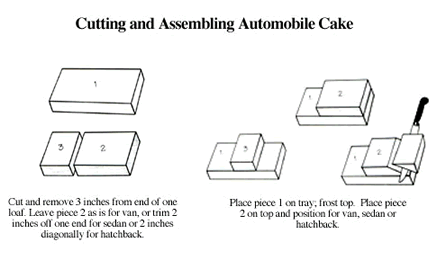 Back Home




Don't forget to visit our other Recipe site at
That's My Home