Cake Recipes
Inchworm Birthday Cake Recipe
Birthday Recipes
Inchworm Birthday Cake

1 package cake mix (any flavor)
Water, oil and eggs called for on cake mix package
8 drops green food color
1-1/2 tubs vanilla ready-to-spread frosting
Tray or cardboard, 19x14 inches, covered
5 candy-coated chocolate candies
2 vanilla wafer cookies
2 small pretzel sticks
24 gumdrops

Heat oven to 350 degrees. Grease 12-cup bundt cake pan. Make cake mix as directed on package, using water, oil and eggs. Pour into pan.

Bake as directed on package or until toothpick inserted in center comes out clean. Cool 15 minutes; remove from pan to wire rack. Cool completely, about 1 hour.

Cut cake as shown in diagram A. Freeze pieces uncovered 1 hour for easier frosting. Stir food color into frosting. Arrange cake pieces on tray to form inchworm as shown in diagram B. Frost cake, attaching pieces with frosting.

Attach 1 chocolate candy to each vanilla wafer with frosting; attach to end of cake for eyes. Press 3 candies into frosting for mouth. Gently push 1 pretzel stick into flat end of gumdrop; repeat. Insert pretzels stick into cake for antennae. Arrange remaining gumdrops along edge for feet.
Makes 16 servings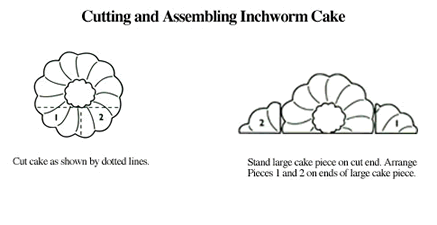 Back Home




Don't forget to visit our other Recipe site at
That's My Home