Cake Recipes
Sailboat Birthday Cake Recipe
Birthday Recipes
Sailboat Birthday Cake

1 package yellow cake mix
1-1/4 cups water
1/3 cup vegetable oil
3 eggs
1 package fluffy white frosting mix
1/2 cup boiling water
Yellow food color
1 piece aluminum foil, 14x4 inches
Ring-shaped hard candies

Heat oven to 350 degrees. Generously grease and flour rectangular pan, 13x9x2 inches. Prepare cake mix, using 1-1/4 cups water, the oil and eggs, as directed on package. Pour into pan.

Bake 33 to 38 minutes or until toothpick inserted in center comes out clean. Cool 10 minutes; remove from pan to wire rack. Cool completely, about 1 hour.

Cut cake as shown in diagram. Arrange pieces to form sailboat on large tray or aluminum foil-covered cardboard, about 20x18 inches, leaving space between sails for mast.

Prepare frosting mix, using 1/2 cup boiling water, as directed on package; reserve 1 cup. Frost sails with remaining frosting.

Gently stir a few drops of food color into reserved frosting until blended. Frost hull of sailboat with yellow frosting. Roll up 14x4-inch piece of foil from 14-inch end; place between sails for mast. (Or use 14x4-inch piece of freezer or cooking parchment paper; secure with tape.) Use candy for portholes, or decorate as desired.
Makes 12 servings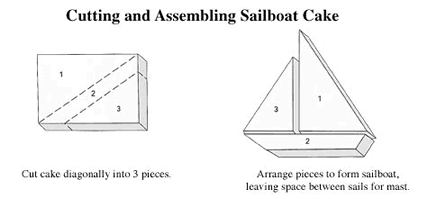 Back Home




Don't forget to visit our other Recipe site at
That's My Home