Cake Recipes
Spaceship Birthday Cake Recipe
Birthday Recipes
Spaceship Birthday Cake

1 package yellow cake mix
1-1/4 cups water
1/3 cup vegetable oil
3 eggs
Tray or cardboard, 17x12 inches, covered with foil
1-1/2 tubs (16 ounces each) vanilla ready-to-spread frosting
1 roll Fruit Roll-Ups strawberry chewy fruit snack rolls
1 tube (0.68 ounce) black decorating gel

Heat oven to 350 degrees. Grease bottom only of rectangular pan, 13x9x2 inches. Beat cake mix, water, oil and eggs in large bowl with electric mixer on low speed 30 seconds; beat on medium speed 2 minutes, scraping bowl occasionally. Pour into pan.

Bake 33 to 38 minutes or until toothpick inserted in center comes out clean. Cool 10 minutes; remove from pan to wire rack. Cool completely, about 1 hour. Cut cake as shown in diagram. Freeze pieces uncovered about 1 hour for easier frosting if desired.

Place cake piece 1 on tray. Frost with about 1 1/4 cups frosting. Arrange pieces 2, 3 and 4 as shown in diagram, trimming to fit, standing up piece 3 for top fin. Trim point of piece 2 for nose of ship. Frost cake with remaining frosting. Let frosting set a few minutes. Carefully cover with a paper towel and gently pat to give a fabric-like appearance; remove towel. Use fruit snack for strips as shown in photograph. Outline as desired with decorating gel.
Makes 12 servings.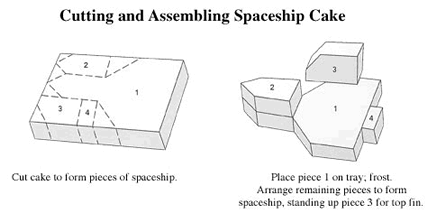 Back Home




Don't forget to visit our other Recipe site at
That's My Home