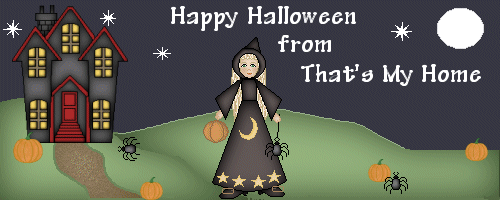 October 1, 2005
Hello Everyone!!!

It is a busy time around here trying to get ready for the holidays. New Halloween Recipes were recently added just in time for your Halloween Party fun. I'm also starting to add some new tags at Food Gifts From Your Kitchen and will continue to do so in the next few weeks.

It is a cool, windy day here as I write this newsletter and I think you will see the recipes in this month's newsletter reflect that. Enjoy!
RECIPES FOR OCTOBER
BRAISED BRISKET WITH RED WINE AND TOMATOES

If you can make the dish a day or two in advance, the flavor mellows.

1 flat-cut beef brisket (4 to 5 pounds), trimmed of excess fat
Salt and pepper, to taste
3 tablespoons vegetable oil
3 medium onions, thinly sliced
2 celery stalks, chopped
2 carrots, coarsely chopped
4 cloves garlic, finely chopped
2 cups dry red wine
1 can (28 ounces) whole tomatoes, crushed in a bowl
1 teaspoon dried thyme
Set the oven at 325 degrees. Have on hand a 6-quart Dutch oven or another heavy, flame-proof pot with a tight-fitting lid.

Sprinkle the brisket all over with salt and pepper. In the pot, heat 2 tablespoons of the oil over medium-high heat. Brown the brisket for about 5 minutes on a side. Transfer the meat to a plate.

Lower the heat to medium. Add the remaining 1 tablespoon of oil. Cook the onions, stirring often, for 6 minutes or until golden. Stir in the celery, carrots, and garlic. Cook for 3 minutes.

Stir in the wine, tomatoes, thyme, and a generous pinch each of salt and pepper. Bring to a boil, scraping the bottom of the pan. Place the meat, fat side up, on top of the vegetables. Cover with the lid. Transfer the pot to the oven and cook for 3 1/2 hours or until a fork inserted into the meat slides out easily.

Remove the cover and cool the brisket in the pan. Refrigerate for 1 to 2 days.

To serve: Set the oven at 350 degrees. Remove the meat from the sauce. Slice it thinly against the grain. Discard the fat from the sauce.

Use a ladle to remove some of the vegetables and sauce from the pot. In a food processor, work the mixture until smooth; transfer to a bowl. Repeat with more vegetables, leaving some of the vegetables whole if you want a chunkier sauce. Return the puree to the pot and stir well to blend it with the juices in the pan.

Arrange the meat in a baking dish. Spoon 2 cups of the sauce on top. Cover with foil and reheat for 30 minutes or until hot. Meanwhile, bring the remaining sauce to a boil, lower the heat, and simmer gently for 2 minutes. Taste for seasoning and add more salt and pepper, if you like. Pour into a gravy boat and pass separately with the meat.

RUPOLI FAMILY RED SAUCE AND MEATBALLS

Red Sauce:
1 tablespoon olive oil
8 cloves garlic, finely chopped
1 (28-ounce) can tomato puree
1 (28-ounce) can crushed tomato with basil
1 (28-ounce) can tomato sauce
1 (6-ounce) can of tomato paste, Italian style
2 to 3 tablespoons dried parsley, optional
1 bay leaf, optional
2 teaspoons dried oregano or a tablespoon of fresh oregano leaves, torn in little pieces
1 teaspoon dried basil or a tablespoon or so of slivered fresh basil leaves
1/2 teaspoon black pepper
1/4 to ½ teaspoon dried red chile flakes
1 cup Romano cheese
Fresh chopped parsley to garnish

For meatballs:
1 pound lean ground beef
1/2 pound ground pork or Italian sausage
1/2 cup fresh bread crumbs
1/2 cup Romano cheese
2 eggs
1 tablespoon dried parsley, optional
1 teaspoon kosher salt
1 ½ cloves finely chopped garlic or 1 teaspoon garlic powder
1/2 teaspoon dried oregano
1/2 teaspoon dried basil
1/4 teaspoon black pepper

In a large saucepan, lightly sauté garlic in olive oil at medium heat, 2-3 minutes. Place remaining ingredients in saucepan, bring to a gentle boil.

Add meatballs and cook at least 2 hours on gentle simmer. Stir sauce every 10 minutes.

Cook pasta according to package directions to al dente. Drain pasta, add sauce and garnish with Romano cheese and fresh chopped parsley.

To make meatballs: Combine all ingredients. Do not overwork the meatballs. Roll using a 2-inch ice cream scoop. Add to red sauce.
Serves 6 to 10

Nutritional information per serving: 488 cal., 26 g fat (11 g sat.), 148 mg chol., 36 g carb., 1906 mg sodium, 6 g fiber, 28 g pro

OSSO BUCO

4 veal shanks, cut 2 inches thick
1/2 cup flour, seasoned with salt and pepper
1 tablespoon Italian parsley, chopped
3 ounces olive oil, divided use
1/2 pound cippolini or pearl onions (available frozen)
1/2 pound turnips, cut in 1-inch dice
1/2 pound mushrooms, quartered
1/2 pound carrots, cut in K-inch dice
1/2 pound portobello mushrooms, cut in wedges 1-inch wide
1 teaspoon thyme and rosemary mixed, finely chopped
1 tablespoon butter
2 tablespoons garlic, finely chopped
2 tablespoons flour
12 ounces red wine
1 quart chicken broth
12 ounces beef broth
1 cup stewed tomatoes (canned, preferably San Marzano)
Salt and pepper to taste

Season osso buco with salt and pepper and coat with seasoned flour, shaking off excess.

Sear veal in half the olive oil in a heavy-bottomed dutch oven until browned on all sides. Remove from pan and set aside.

Add remaining oil to pan, enough to cover the bottom of the pan. Add onions and season with salt and pepper. Over medium-high heat, saute onions until nicely browned. Remove, Cool and reserve. Add turnips and carrots to pan (add oil if needed) and season with salt and pepper. Sautee, stirring occasionally, over medium-high flame until vegetables are slightly browned. Remove and set aside.

Preheat oven to 350.

Add portobellos and button mushrooms to pan and season lightly with salt and pepper. Sautee mushrooms until slightly browned. Remove and set aside. Lower heat and add butter, garlic, thyme and rosemary. Sprinkle flour in pan and saute for a few minutes, stirring constantly.

Add wine, stir and increase heat to high. Stir mixture until it is smooth and reduced by half. Add chicken and beef stock, stewed tomatoes and bring to a simmer. Skim any foam or fat that rises to the top. Add veal shanks to the dutch oven and simmer, covered, for 1 hour.

Turn shanks and add carrots, onions, mushrooms and turnips to the sauce. Cover and cook an additional hour. Meat should be very tender.
Serves 4.
This recipe comes from Maggiano's Little Italy, courtesy of chef George Poston

HERB AND CHEESE STUFFED CHICKEN THIGHS

If you cannot find boneless thighs with the skin left on you can ask the butcher to bone them for you. Otherwise you can bone them yourself from the underside leaving the skin intact. The thighs can be assembled up to a day ahead of time and kept in the refrigerator until you are ready to pop them in the oven.

3/4 cup fresh breadcrumbs from a crusty bakery loaf
1/2 cup freshly grated Parmesan cheese
1/3 cup asiago or provolone cheese
1/4 cup flat leaf Italian parsley, coarsely chopped
1 tablespoon fresh rosemary, chopped fine
1 tablespoon fresh thyme, chopped fine
1 teaspoon finely grated lemon zest (optional)
1 large egg
1/4 teaspoon salt plus additional salt for finishing the thighs
Freshly ground black pepper to taste
8 boneless skin-on chicken thighs (about 4-5 ounces each)

Heat the oven to 450 degrees and adjust a rack to the center position. In a medium bowl combine the breadcrumbs, Parmesan, asiago, parsley, rosemary, thyme, optional zest, egg, salt and pepper and mix with your hands until well combined.

Place a chicken thigh skin side down on a work surface. Grab approximately1/4 cup stuffing and gently squeeze in the palm of your hand to form a cohesive cigar-shaped lump and place in the center of the thigh. Pull up the meat of either side and fasten with either a couple of lengths of kitchen string or a wooden skewer that has been cut in half. You should assemble the thighs so the elongated stuffing lump fits in the same general direction and space as the removed bone. Repeat with the remaining thighs and stuffing.

Place the stuffed thighs skin side up on a rimmed baking sheet and season with salt and freshly ground black pepper. Roast until the thighs are crisp and golden brown and a thermometer inserted into the thickest part reaches 165 degrees, 30 to 35 minutes.

If you have made the thighs ahead and are roasting them directly from the refrigerator you may need to allow for an extra five minutes or so. Let cool for five minutes, cut away the kitchen string or remove the skewers and serve immediately.

Serves 4 to 6.

CROCKPOT RECIPES
SAUCY APRICOT GLAZED CHICKEN

1 cup good-quality apricot preserves
3/4 cup bottled Russian dressing
1 envelope dry onion soup mix
12 skinless, boneless chicken breast halves, skinned of fat (about 3-1/2 to 4 lbs)

In a medium bowl, mix together the apricot preserves, dressing and dry soup mix until well blended.
Arrange 3 of the chicken breasts in the bottom of a 3-1/2 to 4 quart slow cooker. Spoon a fourth of the apricot mixture on top. Add 3 more layers of chicken with the apricot mixture in between and on top. Cover and cook on high setting for 1 hour.
Reduce the heat setting to low and continue cooking, covered, 2-1/2 to 3 hours, or until the chicken is tender and white throughout; do not overcook or the chicken will toughen.
Serve the sauce over the chicken. Serve over cooked wild rice or white rice.
CHICKEN IN MUSHROOM SAUCE
4 boned and skinned chicken breast halves
1 can cream of mushroom soup
1 cup sour cream
4 bacon strips, cooked and crumbled

Place chicken in a slow cooker

Combine soup and sour cream; pour over chicken. Cover and cook on low for 4-5 hours or until chicken is tender.

Sprinkle with bacon.
CROCKPOT BARBECUE BEEF ROAST

1 beef roast, crockpot size
salt and pepper
1 bottle favorite bbq sauce

Place the roast into the crock pot and add the salt and pepper. Pour the barbecue sauce over the meat covering completely with sauce. Place the lid on and cook on a medium setting for the entire day. (8 hours). The sauce has a wonderful flavor and can be thickened with a small amount of flour, if desired.

CHICKEN AND DUMPLINGS

4 boneless skinless chicken breasts, cut in small chunks
2 cans condensed cream of chicken soup
1/4 cup onion, finely diced
2 cups water
2 10 oz packages refrigerated biscuits
1 chicken bouillon cube

Combine all ingredients, except biscuits, in slow cooker. Cover and cook on low for 5 to 6 hours. 30 minutes before serving, tear biscuit dough into 1-inch pieces. Add to your slow cooker; stirring gently. Cover and cook on HIGH for an additional 30 minutes or until biscuits are fluffed up and cooked through.
OLD FASHIONED CROCKPOT ROAST
6 small potatoes
6 small onions
6 medium carrots
1 boneless beef chuck roast (approximately 3 pounds)
Salt and pepper to taste
1 cup water

Place all ingredients in your slow cooker in the order listed. Cover and cook on low for 8 hours.
CROCKPOT PORK CHOPS
5-6 pork chops
1/4 c. brown sugar
1/4 tsp. ground cinnamon
1/4 tsp. ground cloves
8 oz. can tomato sauce
29 oz. can cling peaches (halves)
1/4 c. vinegar
Salt and pepper
Brown chops lightly on both sides in skillet. Pour off excess fat.
Combine sugar, cinnamon, cloves, tomato sauce, 1/4 cup syrup from peaches and vinegar.
Season chops and arrange in slow cooker.
Put drained peach halves on top. Pour tomato mixture over all.
Cover and cook on low for 4-6 hours.
HUNGARIAN PAPRIKASH

2 tablespoons peanut oil
1 large onion
3 tablespoons paprika
1 teaspoon salt
2 pounds boneless chicken
1/4 cup chicken stock or water
1 cup sour cream
2 tablespoons flour

Chop onion. If desired, cut chicken into 1 inch chunks. Saute onion in oil until very tender, about 15 minutes. Add paprika and salt; saute 1 minute. Add chicken and saute until seared, 5 to 10 minutes. Place saute mixture in a medium (preferably 2 qt) slow cooker; add stock. Simmer about 4 hours for thighs, 2 hours for breast.
Or, leave whole in Step 1 and simmer about 6 hours for thighs, 3 hours for breast; if desired, remove from pot and cut into bite-size pieces. Stir sour cream into flour, add to pot and simmer 30 minutes. Serve with dumplings, spaetzle, noodles or rice.
Variation: If desired, dish may be prepared with bone-in chicken. Remove skin and sear meat as above. Use a 3-1/2 qt cooker. Simmer about 7 hours for legs or thighs, about 4 hours for breast.
CROCKPOT CHICKEN OLE'

1 can condensed cream of chicken soup
1 can condensed cream of mushroom soup
7 ounces green chile salsa
1 cup sour cream
1/2 cup chopped onion
12 corn tortillas, cut 6 pieces each
4 cups coarse chopped cooked chicken or turkey
3/4 cup shredded cheddar cheese
avocado slices

Lightly grease sides and bottom of a slow cooker. Combine soups, salsa, sour cream and onion in a bowl. In the slow cooker, arrange alternating layers of tortillas with chicken and soup mixture. Cover and cook on LOW 4 to 5 hours. Sprinkle with cheese. Cover and cook on LOW another 5 or 10 minutes or until cheese melts. Serve with orange and avocado slices.

CROCKPOT APPLE PIE

8 Tart Apples peeled and sliced (try Granny Smith or Golden Delicious apples)
1-1/4 teaspoons ground cinnamon
1/4 teaspoon allspice
1/4 teaspoon nutmeg
3/4 cup milk
2 tablespoons butter, softened
3/4 cup sugar
2 eggs
2 teaspoons vanilla
1-1/2 cup Bisquick, divided
1/3 cup brown sugar
3 tablespoons butter, cold

Toss apples in large bowl with cinnamon, allspice, and nutmeg. Place apple mixture in lightly greased slow cooker. Combine milk, softened butter, sugar, eggs, vanilla, and 1/2 cup of the Bisquick. Spoon over apples.

Combine the remaining Bisquick with the brown sugar. Cut cold butter into Bisquick mixture until crumbly. Sprinkle this mixture over top of apple mixture.

Cover and cook on low 6 to 7 hours or until apples are soft.
TRIPLE CHOCOLATE MESS

1 package chocolate cake mix
1 pint sour cream
1 pack instant chocolate pudding mix
1 small bag chocolate chips (6 oz)
3/4 cup oil
4 eggs
1 cup water

Spray crockery with non-stick spray. Mix all ingredients until smooth, pour into crockery. Cook on low 6-8 hours. Serve in a bowl with vanilla ice cream.

If you enjoy this newsletter, help That's My Home grow by forwarding it to your friends. Sign up to receive our newsletter at That's My Home.

VEGETABLE RECIPES
BROCCOLI SAUTEED IN WINE AND GARLIC (Broccoli al Frascati)
Cooking cruciferous vegetables without boiling them, as in this recipe, seems to make them more fragrant and heady-just the way the robust Romans like their food, according to Mario Batali, whose latest book, "Molto Italiano" has more than 300 regional recipes.

6 tablespoons extra-virgin olive oil
4 cloves garlic, sliced
3 pounds broccoli, cut into spears
1 cup Frascati or other dry white wine
1 tablespoon hot red pepper flakes
Zest of 1 lemon
Zest of 1 orange

In a 10- to 12-inch saute pan, heat the olive oil with garlic over medium- high heat until just sizzling. Add the broccoli and cook, tossing frequently and gradually adding the wine to keep the garlic from browning, until the stalks are tender, 8 to 10 minutes. Add red pepper flakes and zests, tossing well, and serve immediately.
Serves 6.
GREEN BEANS, TOASTED PECANS AND BLUE CHEESE

Make this side dish ahead of time to take to the tailgate party. Add remaining nuts right before serving. This can be doubled, tripled, etc.

1/4 teaspoon Dijon mustard
1 teaspoon cider vinegar
2 teaspoons finely chopped shallot
1 tablespoon olive oil
1/2 cup pecans
3/4 pound green beans, trimmed, about 1-inch long
1 1/2 ounces blue cheese such as Maytag

In a large bowl whisk together mustard, vinegar, shallot, and 1/2 tablespoon oil to make dressing. In a small heavy skillet, heat remaining 1/2 tablespoon oil over moderately high heat until hot but not smoking and sauté pecans with salt to taste, stirring frequently, until a shade darker, about 1 minute. Transfer nuts to paper towels to drain and cool. Coarsely chop nuts. Have ready a bowl of ice and cold water. In a large saucepan of boiling salted water, blanch beans until just tender, about 3 minutes, and drain in a colander. Transfer beans to ice water, stirring until just cool. Drain beans well and add to dressing. Crumble blue cheese over beans and gently toss with half of the nuts and salt and pepper to taste.

Serve beans at room temperature topped with remaining nuts. Serves 2 as a side dish.

Per serving: 365 calories; 31 g fat (6 g saturated fat; 76 percent calories from fat); 17 g carbohydrates; 16 mg cholesterol; 310 mg sodium; 9 g protein; 7 g fiber. Recipe from Gourmet.
BROCCOLI CASSEROLE
2 cups chopped broccoli
1/2 cup chopped onion
1/2 cup chopped green pepper
1 cup to 2 cups (4 to 8 ounces) shredded sharp cheddar cheese

Sauce:
1 1/2 cups milk
3/4 cup self-rising flour or baking mix (such as Bisquick)
3 whole eggs
1 teaspoon salt
1/4 teaspoon black pepper

Blanch broccoli in boiling water for 5 minutes, then cool quickly in cold water. Drain.

Preheat oven to 400 degrees. Spray a baking dish (about 10 by 10 inches) with cooking-oil spray.

Spread broccoli in bottom of dish. Spread onion and green pepper over the broccoli, then sprinkle the cheddar evenly over dish.

For the Sauce, place milk, flour, eggs, salt and pepper in a medium bowl, and whisk together until blended. Pour sauce mixture over the vegetables and cheese in the baking dish.

Bake 35 to 40 minutes until well browned.
STUFFED ACORN SQUASH
1 package (6 ounces) long-grain and wild rice mix
3 orange acorn squashes (10 to 12 ounces each), cut in half and seeded
2 tablespoons margarine
1 cup chopped onion
2 tablespoons lemon juice
2 teaspoons dried sage leaves
1/2 cup dried cranberries
1/4 cup chopped walnuts, toasted
2 tablespoons light brown sugar
Salt and pepper

Prepare rice mix according to package directions, set aside.

Preheat oven to 375 degrees. Arrange squash halves, cut side down, on baking sheet coated with vegetable oil spray. Bake 40 minutes or until tender.

Reduce heat to 350 degrees. Carefully scoop out squash pulp, leaving 1/4-inch shell. Place pulp in small bowl. In skillet, heat margarine over medium heat. Add onion and cook, stirring, until tender, 3 to 5 minutes. Stir in cooked rice, squash pulp, lemon juice and sage, mixing well and breaking up squash pulp. Stir in cranberries, walnuts and brown sugar.

Fill acorn squash shells with equal amounts of squash filling. Place on baking sheet. (You may have to trim a bit off bottom of some of shells to help them stand upright.) Bake in 350-degree oven 15 minutes or until heated through. Season to taste with salt and pepper.
Makes 6 servings.

SOUPS ON!
CROCK-POT VEGETABLE SOUP

2 10-ounce bags shredded angel-hair cut cabbage or one head of cabbage, finely shredded
1 16-ounce bag frozen Seasoning Blend or 1 cup chopped onion, 1/2 cup chopped green bell pepper and 1/2 cup chopped celery
2 to 3 pounds stew beef
1 12-ounce can tomato paste
4 or 5 cups of water (depending on the size of your crock pot)
2 tablespoons Worcestershire sauce
1 16-ounce bag frozen mixed vegetables, thawed
1 16-ounce bag frozen pole beans, thawed
Salt and pepper to taste

Layer the shredded cabbage, Seasoning Blend and beef in a large crock pot. In a bowl, combine the tomato paste, water and Worcestershire sauce. Pour the tomato paste mixture over the ingredients in the crock pot. Cook on the high setting for 6 to 8 hours.

Stir in the thawed mixed vegetables and pole beans and cook an additional hour. Season to taste with salt and pepper and serve.

Makes 12 servings.

TORTELLINI AND TOMATO SOUP

1 tablespoon olive oil
1/2 cup chopped onion
1 1/2 teaspoons minced garlic
5 cups (40 ounces) chicken broth
9 ounces fresh cheese tortellini
1 28-ounce can crushed tomatoes
1 5-ounce package fresh baby spinach, cut into chiffonade or coarsely chopped
Salt and pepper, to taste
1 cup grated Parmesan cheese

Heat the olive oil in a Dutch oven over medium-high heat. Add the onions and sauté until translucent, about 5 minutes. Add minced garlic and cook, stirring often, for 3 minutes. Add the chicken broth. Bring to a boil and stir in the tortellini. Simmer uncovered until the tortellini is cooked, 7 to 9 minutes. Stir in the tomatoes and simmer another 5 minutes. Add the spinach and cook until just wilted. Season to taste with salt and pepper. Ladle into bowls and top with generous sprinklings of grated Parmesan. Makes 6 servings.

SWEET POTATO SOUP

Nonstick cooking spray
1 medium onion, chopped
1 Granny Smith apple, peeled and grated
32 ounces (4 cups) reduced sodium chicken stock or broth
1 29-ounce can yams or sweet potatoes, packed in syrup, rinsed, drained and diced
1 teaspoon pumpkin pie spice
Salt and freshly ground black pepper, to taste
Additional slivers of Granny Smith apple, for garnish

Spray a Dutch oven with the cooking spray and heat over medium-high. Add onions and grated apple and saute for 5 minutes. Add stock, yams or sweet potatoes, pumpkin pie spice and salt and pepper. Raise heat to high, cover and bring to a boil. Reduce heat to low and simmer, uncovered, for 15 to 20 minutes. Remove from the heat and puree with an immersion blender. Or cool soup and puree in a regular blender, and reheat soup, covered, over low heat. Ladle into bowls and garnish with the apple slivers.

Makes 6 servings.

Note: Soup can be pureed in small batches in an electric blender. Use caution when pureeing hot liquids in a blender. Never fill the blender more than 1/3 full of a hot liquid.

Nutritional information per serving: 194 calories, 5.2 grams protein, 40.4 grams carbohydrates, 5 grams fiber, 1.5 grams fat, 0.4 gram saturated fat, 0 milligrams cholesterol, 572 milligrams sodium.

BLACK BEAN AND KIELBASA CHILI
1 pound turkey kielbasa, cut into chunks
1 cup chopped onion
1 cup chopped green bell pepper
2 teaspoons minced garlic
1 tablespoon chili powder
1 teaspoon ground cumin
1 teaspoon oregano
1 cup red wine
1 14.5-ounce can reduced sodium beef broth
1 8-ounce can tomato sauce
1 28-ounce can diced tomatoes, undrained
2 15-ounce cans black beans, rinsed and drained

Place cubed kielbasa in a food processor and pulse until ground. Heat a Dutch oven or large skillet over medium-high heat. Add the kielbasa, onions and peppers and saute until vegetables are tender, about 5 minutes. Stir in the garlic, chili powder, cumin and oregano and simmer a few minutes to bring out their flavor. Add the red wine and bring to a boil, until reduced slightly, about 5 minutes. Add the remaining ingredients and simmer, covered, for 20 minutes.

Makes 6 servings.

Nutritional information per serving: 399 calories, 26.1 grams protein, 51.8 grams carbohydrates, 12.4 gram fiber, 8.2 gram fat, 2.2 gram saturated fat, 39 milligrams cholesterol, 1743 milligrams sodium.

CHICKEN CACCIATORE SOUP

1 cup dry pasta, cooked according to package directions
1 teaspoon olive oil
1 pound chicken tenderloin filets, cut into 1-inch pieces
1 teaspoon Italian seasonings
1 26-ounce jar spaghetti sauce with diced tomatoes, olive oil and garlic
2 14-ounce cans low-sodium chicken broth
1 15-ounce can diced tomatoes with oregano, basil and garlic
1 medium yellow squash, washed and sliced
1 medium zucchini, washed and sliced

Heat the oil in a large saute pan or Dutch oven. Add the chicken and Italian seasonings and saute until the chicken is almost cooked. Add remaining ingredients and bring to a boil. Reduce heat and simmer 20 minutes, until squash is tender. Add the cooked pasta and heat through.

Makes 6 servings.

Nutritional information per serving: 347 calories, 25 grams protein, 44 grams carbohydrates, 4 grams fiber, 8.8 grams fat, 1.8 grams saturated fat, 46 milligrams cholesterol and 1,103 grams sodium.

FAUX PHO

2 32-ounce containers reduced-sodium chicken broth
1 14.5-ounce can reduced-sodium beef broth
1 teaspoon prepared ginger puree or 3-inch slices fresh gingerroot
1 cinnamon stick
8 ounces linguine, cooked according to package directions
8 ounces sliced lean deli roast beef
1 cup finely shredded green cabbage
2 green onions, thinly sliced
Fresh cilantro, mint and basil, for garnish
Hot chili peppers, for garnish
Lime wedges, for garnish

Place the broths, ginger and cinnamon stick in a Dutch oven over medium-high heat and bring to a boil. Simmer 15 minutes. Divide the cooked linguine, roast beef, shredded cabbage and green onion among soup bowls and ladle the steaming hot broth over the top. Allow each diner to garnish his serving with the herbs, chili and a squeeze of lime juice.
Makes 8 servings.

Nutrition information per serving: 211 calories, 6 grams fat, 2 grams saturated fat, 24 grams carbohydrates, 15 grams protein, 23 milligrams cholesterol, 1 gram fiber, 458 milligrams sodium

GUILT-FREE WILD RICE SOUP

1 tsp. olive oil
1 tbsp. minced onion
3 cups fat-free chicken broth
½ cup finely grated carrots
2 cups cooked wild rice (about 2/3 cup raw)
1/3 cup extra-lean ham, minced
½ tsp. salt (optional)
3 tbsp. cornstarch
1 cup fat-free half-and-half
2 tbsp. dry sherry (optional)
3 tbsp. chopped slivered almonds, toasted
Minced parsley or chives

Place the olive oil in a large saucepan over medium heat. Add the onion and saute until softened, about 3-4 minutes, adding small amounts of chicken broth if necessary to prevent burning. Then add the 3 cups chicken broth and carrots, and bring to a boil. Add the wild rice, ham and salt, and simmer for about 5 minutes.

Dissolve the cornstarch in the half-and-half, then slowly stir into the hot soup. Stirring constantly, thicken the soup by bringing it to a boil. If it is not thick enough, dissolve 1 more tablespoon cornstarch in a little cold chicken broth or water, add it to the soup and bring it back to a boil. If it's too thick, add more fat-free half-and-half or chicken broth. Add the sherry if using; if not using, I suggest adding a favorite herb in its place. Serve topped with the almonds and minced parsley or chives.

Makes 6 cups.

150 calories; 3 grams fat; 3 milligrams cholesterol; 372 milligrams sodium; 22 grams carbohydrates; 10 grams protein; 2 grams fiber.

YUMMY BREADS
CHOCOLATE CHERRY BREAD

2/3 cup dried cherries
1 cup sugar
6 tablespoons butter, softened
2 eggs
1/2 cup fat-free sour cream
1 large, very ripe banana, mashed
2 teaspoons vanilla extract
1-1/2 cups flour
1/4 cup plus 2 tablespoons unsweetened cocoa powder
1 teaspoon baking powder
1/2 teaspoon baking soda
1/4 teaspoon salt
1/2 cup chopped pecans

Soak dried cherries in hot water for 15 minutes. Drain thoroughly and set aside.

In a large bowl of an electric mixer, beat sugar and butter on high speed until creamy, about 3 minutes. Reduce speed to medium and add eggs, one at a time; beat until smooth. Beat in sour cream, banana and vanilla until well blended, about 1 minute.

In another bowl, mix together flour, cocoa, baking powder, baking soda and salt. Reduce speed to low and add flour mixture to banana mixture until just combined. Fold in nuts and reserved cherries.

Pour into a greased 9-by-5-inch loaf pan and bake in a preheated 350-degree oven for 1 hour or until toothpick inserted in the center comes out clean. Cool in pan 10 minutes. Remove from pan; cool completely on wire rack.
12 Servings

Nutrition facts per serving: 262 calories, 11 g fat, 5 g saturated fat, 52 mg cholesterol, 39 g carbohydrates, 4 g protein, 149 mg sodium, 2 g fiber
CINNAMON TWISTIES

1 (8-ounce) can refrigerated crescent dinner rolls
1 tablespoon butter
2 teaspoons cinnamon-sugar blend

Preheat oven to 375 F.

Lightly spray a cookie sheet with nonstick spray. Remove the dough from the can and place on a cutting board. Unroll into 1 large rectangle. Use your fingers to seal the perforations in the dough. Press the dough into a rectangle that is 12 inches long and 7 inches wide.

Put the butter in a custard cup. Microwave on High (100 percent power) 5 to 10 seconds, until melted. With a pastry brush, brush the dough with melted butter.

Sprinkle cinnamon-sugar blend evenly over the dough. With a pizza cutter, slice the dough crosswise into 12 strips that are 7 inches long and 1 inch wide. Now cut the strips in half crosswise, so they are only 31/2 inches long. You should have 24 strips. Twist each strip and put it on the cookie sheet.

Bake for 8 to 10 minutes or until strips are deep golden brown. Remove the strips from the cookie sheet and place them on a rack to cool. Makes 24 strips.

PER SERVING (4 pieces): Calories 150 Fat 7 g Sodium 470 mg Carbohydrates 19 g
DOUBLE CORN MUFFINS

1/2 cup butter, room temperature
1/2 cup corn or canola oil
3/4 cup white or turbinado sugar
3 tablespoons honey
1/2 teaspoon salt
3 cups unbleached white all-purpose flour
1 cup cornmeal
3 1/2 teaspoons baking powder
3/4 cup milk
1 cup fresh corn kernels, or frozen corn kernels, thawed and drained

Preheat the oven to 375 degrees. Line two 12-cup muffin pans with paper liners.

In a mixing bowl, beat the butter, oil, sugar and honey together till fluffy. In a second bowl, mix the flour, cornmeal, baking powder and salt, and add to the butter mixture alternately with the milk. Mix on low speed just till blended. Stir in the corn. Fill each muffin cup 3/4 full, and bake for 25 minutes or until a toothpick inserted in the center comes out clean. Best served hot and fresh, with butter and honey.

Makes 22 to 24 muffins.
CRANBERRY WALNUT BREAD
3 cups (or more) bread flour
1/4 cup sugar
2 envelopes quick-rising dry yeast
1 1/4 teaspoons salt
1/2 cup buttermilk
2 large eggs
2 tablespoons (1/4 stick) unsalted butter, melted, hot
1 1/2 tablespoons orange extract
1/3 cup (about) warm water (120 to 130 degrees)
1 cup dried cranberries
1/2 cup coarsely chopped walnuts
1 large egg, beaten to blend (for glaze)

Stir 3 cups flour, sugar, yeast and salt in large bowl to blend. Add buttermilk, eggs, melted butter and orange extract and stir vigorously until well blended. Gradually stir in enough warm water to form soft, slightly sticky dough.

Transfer dough to floured work surface. Knead dough until smooth and slightly tacky but not sticky, adding more flour if necessary, about 7 minutes. Knead in dried cranberries, 1/3 cup at a time; then knead in walnuts. Form dough into ball.

Oil large bowl. Add dough to bowl, turning to coat with oil. Cover bowl with plastic wrap, then towel. Let dough rise in warm draft-free area until doubled in volume, about 1 1/2 hours.

Lightly oil heavy large baking sheet.

Punch down dough. Turn dough out onto floured surface. Divide dough into 4 equal pieces; then divide 1 dough piece into 3 equal pieces and reserve. Using palms of hands, roll out each of remaining 3 large pieces on work surface to 13-inch-long ropes. Braid ropes together. Tuck ends under and pinch together. Transfer braid to prepared baking sheet. Roll out each of reserved 3 small dough pieces to 10-inch-long ropes. Braid ropes together. Tuck ends under and pinch together.

Brush large braid with some of egg glaze. Place small braid atop center of large braid. Brush small braid with some of egg glaze. Let rise uncovered in warm area until almost doubled in volume, about 1 hour 15 minutes.

Preheat oven to 325 degrees.

Brush loaf again with egg glaze. Bake until loaf is deep golden brown and sounds hollow when tapped on bottom, about 45 minutes. Transfer loaf to rack and cool at least 45 minutes before slicing. (Can be prepared ahead. Cool completely. Wrap tightly in foil and freeze up to 2 weeks. Uncover and thaw at room temperature.) Makes 1 loaf.

ENGLISH MUFFIN BREAD

1 1/4 cups water (about)
2 egg whites
1/2 teaspoon baking soda
3 1/2 cups bread flour
2 1/4 teaspoons active dry yeast
1 teaspoon cornmeal to top bread

Have water at about 80 degrees. All other ingredients should be at room temperature. Measure egg whites into large measuring cup. Add enough water to make 11/4 cups. Place all ingredients except cornmeal into bread machine pan in order listed. Select basic/normal cycle. Do NOT use the delay timer. Check dough consistency after 5 minutes of kneading, making adjustments if necessary. During last rising cycle, sprinkle top of dough with 1 teaspoon cornmeal.
Makes 1 loaf.

Note: To check the consistency of the dough, open the bread machine's lid about 5 minutes into the knead cycle. By this time, the dough should be a soft, tacky ball. If it is dry and stiff, add liquid, 1/2 to 1 tablespoon at a time. If dough is too wet and sticky, add 1 tablespoon of flour at a time.

DELICIOUS DESSERTS
PINEAPPLE POUND CAKE

1/2 pound butter (2 sticks), softened
1/2 cup vegetable shortening (room temperature)
3 cups sugar
5 eggs
3 cups sifted flour (sifted before measuring)
1/2 teaspoon baking powder
1/2 teaspoon salt
1 cup milk
1 tablespoon vanilla extract (not a teaspoon)
1 teaspoon lemon extract
8-ounce can crushed pineapple, drained

In a large electric-mixer bowl, beat together the softened (not melted) butter, the shortening and sugar until light and fluffy. Add eggs, one at a time, beating well at medium speed after each addition. Into another bowl, sift together (this is the second sifting of flour) the flour, baking powder and salt.
Meanwhile, dump the canned crushed pineapple into a sieve and press out moisture (reserve pineapple juice for another use, such as drinking with orange juice). Do not have the oven preheating, but set a rack at the second lowest position.
Alternately add flour mixture and milk to the butter mixture. Mix until blended well. Add the vanilla and lemon extracts and mix again. Fold in the crushed pineapple.
Pour batter into a greased and floured 9- or 10-inch tube pan. Place in a cold oven, on a rack so that the cake pan is roughly in the oven's center.
Set oven to 350 degrees and begin baking the cake for about 1 hour and 25 minutes or until the cake tests done. Cool on a rack for 25 minutes. Loosen edges of cake and invert to remove from pan. Serve plain or dust with powdered sugar.
Note: Don't try to substitute fresh pineapple for canned. An enzyme in the fresh form will act on the milk protein and not be good for the cake batter in the long run. Canned pineapple is also the form to use when you want gelatin to set properly. Same enzyme interferes with that.

Yield: 12 servings
CINNAMON SWIRL EARTHQUAKE CAKE

1 cup chopped pecans
1 1/2 - 2 cups shredded coconut
1 Betty Crocker Cinnamon Swirl Cake Mix
1 1/2 tsp. cinnamon
1/2 cup margarine
8 oz. softened cream cheese
1 box or 2 cups confections sugar

Take a 10x13" pan & spay with Pam. Cover bottom of pan with chopped pecans. Then spread coconut over the pecans.

In a mixing bowl mix Cinnamon Swirl Cake by directions on the box but add 1 tsp. cinnamon to the cake mix. Add cinnamon swirl packet to cake mix but start and stop your mixer about 6-7 times. Pour cake mixture over coconut and pecans.

In a mixing bowl cream your soft margarine, cream cheese and powdered sugar and 1/2 tsp. of cinnamon. Drop by tablespoonfuls in dollops on top of cake batter. Take a knife and run it through the cream cheese mixture a little bit to swirl the top of the cake. Not too much! You still want to have the cream cheese in clumps.
Bake at 350 degrees for 40-45 minutes. This cake will fall and look like an earthquake hit it.
INCREDIBLE CRANBERRY FUDGE CAKE

2/3 cup semi-sweet chocolate chips
1/2 cup butter
1-oz. block of unsweetened baking chocolate
1 cup whole-berry cranberry sauce
1/2 cup sugar
2 eggs
1 teaspoon vanilla extract
1/4 cup all-purpose flour
1/2 teaspoon baking powder
Glaze:
1/4 cup whipping cream
1/2 cup semi-sweet chocolate chips
1/4 cup jellied cranberry sauce

Have oven heating to 375 degrees. Line an 8-inch round cake pan with foil. This is a one-layer cake. Coat foil with cooking spray. Dust with flour, tapping out excess.
Microwave the 2/3-cup of chocolate chips with butter and unsweetened chocolate in a large microwave-safe bowl on high for 1 minute. Stir smooth. Return to microwave for 30 more seconds, if necessary, to totally melt the chocolate. (Editor's note: You might want to chop the block of unsweetened chocolate into coarse pieces to further reduce melting time. Remember that chocolate holds its shape when micro-melted until it's stirred).
Stir in the cranberry sauce and sugar, mixing well. Add the eggs, vanilla, flour (just 1/4 cup) and baking powder. Stir well. Pour batter into the prepared cake pan.
Bake at 375 degrees for 40 minutes or until the center is just set and a toothpick comes out clean. Cool in pan 30 minutes. Refrigerate one hour or until cold.
For the glaze: Microwave the cream and chocolate chips in a medium-sized, microwave-safe bowl for 1 minute on high. Stir until smooth. Return to the microwave for 30 more seconds, if necessary to melt chocolate. Add the jellied cranberry sauce, mixing well.
Turn the chilled cake out onto a flat serving plate. Remove foil. Spread the glaze over the top, allowing some to drip down the sides of the cake layer. Chill about 1 hour or until glaze is firm. Can be made a day ahead. Store at room temperature.
Yield: 10 servings - From Ocean Spray
APPLE STRUDEL
2 cups apple juice
3 Jonathan or Granny Smith apples
1 cup sugar, plus more for sprinkling
1 tablespoon ground cinnamon, plus more for sprinkling
1/4 cup water
2 tablespoons cornstarch
1/2 cup golden raisins
1/2 cup shelled pecans or walnuts, crumbled into bits
5 sheets phyllo dough
1/4 cup (1/2 stick) butter, melted
Whipped cream or vanilla ice cream (optional)

In a saucepot, bring apple juice to a boil over high heat. Meanwhile, peel and core apples and cut into thin wedges. Place wedges in boiling apple juice, add sugar and cinnamon and stir. Cook until apples are just cooked through but still firm, 4 to 5 minutes.

Place the 1/4 cup water in small bowl, add cornstarch and stir to dissolve. Stir cornstarch mixture into apple mixture. Add raisins and nuts and remove from heat. Cool mixture completely.

Preheat oven to 450 degrees. Lay out phyllo dough and cover with a damp cloth to prevent it from drying out. Separate 1 sheet and place on a piece of parchment or wax paper. Brush phyllo with some of the melted butter. Top with second phyllo sheet, butter it, and keep repeating with remaining phyllo, buttering each time.

Place cooled apple mixture down center of the top of the stack of phyllo sheets. Roll phyllo around the apple mixture to form a log shape. Brush outside with butter and sprinkle evenly with cinnamon and sugar.

Transfer log and the parchment paper in a baking sheet. Bake seam side down until golden brown, 12 to 15 minutes. Remove from oven and let cool. Slice and serve with whipped cream or ice cream, if desired.

PUMPKIN ANGEL FOOD CAKE
1 box angel food cake mix
1 (15 ounce) can pumpkin pie filling
1 tablespoon pumpkin pie spice
1 cup water
Mix above ingredients and bake in an ungreased 9 x 13-inch pan for 30 minutes in a 350 degree F oven. Serve with a dollop of whipped cream.

RESTAURANT RECIPES
PALACE CAFE CATFISH PECAN MEUNIERE
This is a classic New Orleans dish that can be prepared with catfish, trout, drum, sheephead, snapper, cod, halibut or any flaky, white fish.

3 C Pecan halves or pieces
2 T Sugar
2 T Creole seasoning
2 T Worcestershire sauce
2 T Butter, softened
3 ea Eggs
1 C Milk
1 C Flour
6 ea 5-7 oz Catfish fillets
Creole seasoning to taste
Oil for pan-sautéing fish

Mix pecans, sugar, Creole seasoning, Worcestershire sauce and softened butter until pecans are fully coated. Spread pecans on a baking sheet and roast in a 350° oven for 10-15 minutes, or until toasted. Remove from oven and allow to cool.

Make an egg wash by lightly beating eggs and milk together in a mixing bowl. Combine half of the spiced pecans and 1C flour in the work bowl of a food processor. Pulse until finely ground, then pour pecan flour onto a sheet pan and spread evenly. Trim fat and any rough edges off catfish fillets and season both sides with Creole seasoning. Dredge fillets in egg wash, then coat both sides with pecan flour. Press the fillets into the pecan flour to be sure they are fully and evenly coated.

Pour about 1/8" of oil into a large skillet or sauté pan and heat until oil is hot, but not smoking. Place fish fillets in hot oil and cook for 4-5 minutes, or until lightly browned. Flip fillets using a spatula, being careful not to break the pecan crust. Cook for 3-4 minutes, or until browned.

To serve, spoon meunière sauce over catfish fillets and garnish with spicy pecans. We serve this signature dish with popcorn rice and steamed vegetables in the restaurant.
Serves 6

Meunière Sauce
1 ea Lemon, peeled and quartered
½ C Worcestershire sauce
½ C Hot pepper sauce (We use Crystal hot sauce)
¼ C Heavy whipping cream
1 lb Butter, cold, cut into small cubes
Kosher salt and white pepper to taste

Combine lemon, Worcestershire sauce and hot sauce in a heavy saucepot. Reduce over medium heat, stirring constantly with a wire whisk until mixture becomes thick and syrupy. Whisk in heavy whipping cream. Reduce heat to low and slowly blend in butter one cube at a time, adding additional butter only after previously added butter has completely incorporated into the sauce. This process is called "mounting the butter." Remove from heat and continue to stir. Season with salt and white pepper to taste. Strain through a fine strainer and keep warm.

K&W CAFETERIA BAKED SPAGHETTI

6 ounces uncooked spaghetti
1 pound ground chuck
1 cup chopped onions
3/4 teaspoon salt
1/4 teaspoon black pepper
1/2 teaspoon chili powder
3/4 cup shredded Cheddar cheese, divided use
1 tablespoon Worcestershire sauce
1-1/4 cups ketchup
1 tablespoon prepared mustard
3/4 cup beef stock
1/2 cup shredded mozzarella cheese

Cook spaghetti according to package directions; drain and set aside.

Preheat oven to 350 degrees. Cook ground chuck and onions in a large skillet, stirring until meat browns and crumbles; drain well.

Stir the salt, pepper, chili powder, 1/4 cup of the shredded Cheddar, the Worcestershire sauce, ketchup, and mustard into the meat mixture. Simmer 5 minutes. Stir in spaghetti and beef stock.

Spoon mixture into a baking dish. Top spaghetti with remaining 1/2 cup shredded Cheddar and the shredded mozzarella.

Bake 20 to 30 minutes, or until cheese begins to brown.

QUICK AND EASY RECIPES
TACO PIZZA

1 package (8.2 ounces) corn muffin/bread mix (see note)
¾ cup refried beans (about ½ of a 15-ounce can)
¾ cup salsa
½ bell pepper, chopped, optional
2 tablespoon chopped black olives, optional
1 cup shredded cheddar or Monterey Jack cheese (reduced-fat)

Heat oven to 400 degrees

Make cornbread/muffin batter according to package directions. Spread mixture evenly over a 10-12 inch pizza pan, lightly coated with vegetable oil. Bake for 8 minutes or just until crust starts to brown. Remove from oven and spread with refried beans. Follow with salsa, peppers and olives as desired. Sprinkle cheese evenly over filling. Bake for 15 minutes.

Serves 4 for a main course or 8 for a lighter meal

Note: When using a larger mix such as Martha White's cornmeal mix, prepare recipe for an 8-inch pan of cornbread to use as crust. It will be less sweet than muffin mixes such as Jiffy. When a thinner crust is preferred, use amounts for half the recipe.

Additions: Cooked, shredded beef, chicken or ground meat can be added with peppers and olives for a heartier meal.

Per piece nutrition data: 190 calories, 6 grams fat, 9 grams protein, 26 grams carbohydrate, 3 grams fiber, 570 milligrams sodium.

BONELESS CHICKEN SAUTEED WITH APPLES

2 teaspoons butter or oil
4-6 ounces boned and skinned chicken breast, cut into 1/2 -inch wide slices
1/3 cup thinly sliced scallions
1 cup peeled, seeded and sliced apples
3/4 cup chicken stock
1/4 teaspoon red wine vinegar (optional)
Salt

Heat oil over high heat and sear chicken. Remove from pan and set aside. Add scallions and apples to pan and cook over high heat, stirring constantly for 1 minute. The apples will be slightly seared. Place the chicken back in the pan, lower heat and add chicken stock. Cover pan and cook over medium heat for 5 minutes. The apples should be cooked through but retain some texture. Add red wine vinegar if you like. Salt to taste. Serve with noodles or rice. Serves 1.

Per serving: 353 calories; 13 g fat (6 g saturated fat; 33 percent calories from fat); 21 g carbohydrates; 125 mg cholesterol; 372 mg sodium; 37 g protein; 3 g fiber.

SUBSCRIPTION INFORMATION
Any questions or comments? E-mail me at:
http://www.razzledazzlerecipes.com/email.htm
You are receiving this newsletter because you have subscribed to our mailing list. If you wish to unsubscribe, you'll find the necessary information at the bottom of this newsletter. We'll hate to see you leave but you will receive no more mailings from us.
Your e-mail address is only used for the purpose of the newsletter, recipes and news from That's My Home and Razzle Dazzle Recipes. We respect your privacy and your e-mail address will not ever be given out or sold as a list to anyone.

http://www.thatsmyhome.com - That's My Home - Our Original Recipe Site
http://www.razzledazzlerecipes.com - Razzle Dazzle Recipes - Our Holiday Recipe Site
http://www.recipe-recipes.net - Food Gifts From Your Kitchen
- Our Recipe Message Board

Copyright That's My Home 2001 - 2005
Privacy Policy