Razzle Dazzle Recipes
"Your Source for Thanksgiving Recipes"
Apple Spice Dump Cake Recipe
5 large apples, peeled, cored and cut into 1/2-inch slices
2 T. apple juice or water
1 can (21 oz.) apple pie filling
1 t. ground cinnamon
1 t. ground nutmeg
1 t. ground allspice
1 T. granulated sugar
1 box (18.25 oz.) spice cake mix
1 C. chopped pecans or walnuts
3 T. butter
1/4 C. light pancake syrup
5 T. apple juice or water
Light vanilla ice cream, optional

Preheat oven to 350°F. Add apple slices to an 8-cup glass measure and drizzle with 2 tablespoons apple juice or water. Cover with plastic wrap and microwave on high for about 5 minutes. Stir mixture and microwave another 5 minutes, until apple slices are just tender.

Stir the apple pie filling into the sliced apples. Pour the apple mixture evenly into a 13 x 9 x 2 inch baking pan. In a small bowl, mix together cinnamon, nutmeg, allspice and sugar. Sprinkle mixture over apple filling.

Pour the dry box of cake mix over the apples. Then scatter the nuts over the top of the cake mix. Combine butter, pancake syrup and apple juice in a microwaveable container and cook on high for a minute or two, or until butter is melted. Stir well to combine ingredients. Drizzle mixture evenly over the top of the cake mix and nuts.

Bake for 45 - 55 minutes or until cake is brown on top and bubbling on the sides. Serve warm with vanilla ice cream, if desired.


Back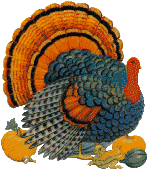 Home

Razzle Dazzle Recipes





http://www.razzledazzlerecipes.com

Don't forget to visit our other Recipe site at
That's My Home

Happy Thanksgiving!