Razzle Dazzle Recipes
"Your Source for Thanksgiving Recipes"
Black Walnut Pie
3 eggs, lightly beaten
1 T. lemon juice
1 C. light corn syrup
1 t. vanilla
1 C. dark brown sugar
2 1/2 C. black walnuts
1/4 C. butter, melted
1 unbaked pie crust (9 inches)

Preheat oven to 350°F.

Gently combine all ingredients in order listed. Stir enough to begin dissolving the sugar, but not enough to incorporate air into the filling. Do not beat the filling or the pie will have air bubbles on the top, instead of black walnuts. Pour filling into the crust.

Place on a cookie sheet and bake for 60 minutes or until the center of the pie is no longer loose and black walnuts are browned. Serve either, hot, cold or at room temperature.
Back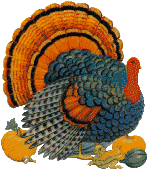 Home

Razzle Dazzle Recipes





http://www.razzledazzlerecipes.com

Don't forget to visit our other Recipe site at
That's My Home

Happy Thanksgiving!