Razzle Dazzle Recipes
"Your Source for Thanksgiving Recipes"
Fluffy Pecan Pumpkin Torte

This fluffy decadent torte is amazingly quick and easy to make. It is so light that it will be sure to please even those that don't normally like traditional pumpkin pie. Caramelized pecans can be used in place of the plain pecan halves for a more elegant presentation.

3/4 C. graham cracker crumbs

1/2 C. finely chopped pecans

5 T. melted butter or margarine

3 T. brown sugar

1 30-oz. can pumpkin pie mix (not canned pumpkin puree)

2 16-oz. containers whipped topping (thawed if frozen), one reserved

1 t. ground cinnamon

pinch ground ginger

1/2 C. pecan halves

In a small bowl, mix together the graham cracker crumbs, chopped pecans, butter or margarine, and brown sugar. Press the mixture into the bottom of an ungreased 9-inch springform pan.
In a large bowl, mix the pumpkin pie mix, the contents of one container of whipped topping, cinnamon, and ginger until well incorporated. Spread the mixture over the prepared crust.
Cover tightly and freeze for at least 3 hours, or up to 24 hours in advance. Before serving, thaw slightly in the refrigerator if frozen for more than 6 hours. Garnish with the pecan halves and serve with the remaining container of whipped topping.

Makes 12 servings
Source: Chyrel

Back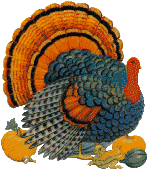 Home

Razzle Dazzle Recipes





http://www.razzledazzlerecipes.com

Don't forget to visit our other Recipe site at
That's My Home

Happy Thanksgiving!