Razzle Dazzle Recipes
"Your Source for Thanksgiving Recipes"
Sweet Potato Bundt Cake With Spiked Sugar Glaze Recipe
3/4 C. golden raisins
1/2 C. dark rum
1 (40 oz.) can of sweet potatoes, drained
4 large eggs
2 C. granulated sugar
1 C. vegetable oil
2 t. pure vanilla extract
3 C. all-purpose flour
1 t. baking powder
1 t. baking soda
1/2 t. salt
1 1/2 t. cinnamon
1/2 t. freshly grated nutmeg
3/4 C. buttermilk
Spiked sugar glaze (recipe follows)

Preheat oven to 350°F. Grease and flour a 10-inch fluted tube or Bundt pan. In a small, non-reactive bowl, soak the raisins in the rum for at least 30 minutes or up to several hours. Drain the raisins and reserve rum; you will use some in the cake and some in the glaze. Add 1/4 cup rum to the sweet potatoes; using a potato masher or large fork, roughly mash them or whip in a food processor.

In a large bowl, beat the eggs just to break them up. Add sugar and beat until the mixture is thick and pale. Add vegetable oil and vanilla; beat to blend. Add mashed sweet potato mixture and mix until thoroughly combined.

In a separate bowl, sift the flour, baking powder, baking soda, salt, cinnamon, and nutmeg. Add the flour mixture to the batter in three additions, alternating with the buttermilk in two additions. Fold in raisins. Pour into pan. Bake in center of oven for 1 hour to 1 hour, 20 minutes or until a skewer inserted into the center comes out clean and the cake is just beginning to pull away from the sides of the pan. Cool the cake in the pan on a wire rack for 10 minutes, then invert onto the rack. Set over a baking sheet to catch the excess glaze.

While cake is cooling, prepare the glaze. With a long skewer, poke holes all over the cake, concentrating on the top. Spoon about half the warm glaze over the top. Let the cake and remaining glaze cool for 10 to 15 minutes, until it has thickened slightly. Pour over the cake, letting it dribble down the sides, then allow the cake to cool completely before cutting and serving or wrapping and storing.
Makes 14 servings.

Spiked sugar glaze:
Combine 1/2 cup tightly packed dark brown sugar, 4 tablespoons unsalted butter, and 3 tablespoons whipping cream in a small, heavy-bottomed saucepan. Bring to a boil over medium heat, stirring until the sugar dissolves. Continue to boil until the mixture thickens somewhat, about 3 minutes, stirring often. Remove from heat and stir in the reserved 1/4 cup rum.
Back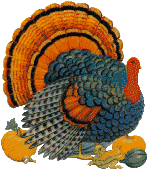 Home

Razzle Dazzle Recipes





http://www.razzledazzlerecipes.com

Don't forget to visit our other Recipe site at
That's My Home

Happy Thanksgiving!