Razzle Dazzle Recipes - Thanksgiving Recipes
"Your Source for Thanksgiving Recipes Online"
Turkey and Stuffin' Soup

4 to 6 C. prepared stuffing
1 T. (1 turn around the pan) extra-virgin olive oil
2 medium carrots, chopped, up to 2 C. leftover baby carrots, chopped
2 ribs celery, chopped
1 onion, chopped
Salt and pepper
1 bay leaf, fresh or dried
2 quarts chicken stock
1 1/2 lbs. light and dark cooked turkey meat, diced
A handful of flat leaf parsley leaves, chopped
1 C. frozen peas or leftover prepared peas, optional

Preheat oven to 350° F. and transfer stuffing into a small baking dish. Place dish in oven and reheat 12 to 15 minutes, until warmed through.

Heat a pot over moderate heat and add extra-virgin olive oil. Work close to the stove and add vegetables as you chop. If you are using fresh carrots, cut them into a small dice or slice thin. If you are using leftover baby carrots, cut carrots into bite-size pieces. Add celery and onion and lightly season vegetables with salt and pepper. Add bay leaf and stock and bring liquid to a boil by raising heat. Add turkey and reduce heat to simmer. Simmer until any raw vegetables are cooked until tender, about 10 minutes. Stir in the parsley, and peas, if using.

Remove stuffing from oven. Using an ice cream scoop, place a healthy scoop of stuffing in the center of a soup bowl. Ladle soup around stuffing ball. Your soup will look like a chunky matzo ball soup. Pull spoonfuls of stuffing away as you eat through your bowl of soup.

Yield: 2 quarts, 4 to 6 servings
Back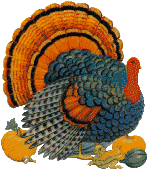 Home

Razzle Dazzle Recipes





http://www.razzledazzlerecipes.com

Don't forget to visit our other Recipe site at
That's My Home

Happy Thanksgiving!