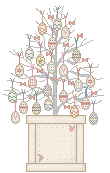 A Greek Easter Dinner
Greek Feta Cheese Appetizer (Oretiko)
1/2 pound Greek feta cheese
12 black Greek kalamata olives, pitted
1 tiny onion, chopped fine
1/4 pound sweet butter
1 red or green pepper, chopped fine

In electric mixer, beat cheese and butter until consistency of whipped cream. Remove from mixer and add olives, onion and pepper. Pack mixture solidly in small mixing bowl or oiled mold. Refrigerate until firm.
From "Low Cholesterol Greek Heritage Cookbook"
Easter Soup (Mayeritsa)
1 lamb shank (low-fat part of lamb)
4 cups water
2 onions, chopped or 6 green onions, chopped
Egg-lemon sauce (follows)
4 tablespoons parsley
4 tablespoons dill, dried
1 cup rice
Vegetable spray, olive oil flavored
Salt and pepper, to taste

Egg- Lemon Sauce:
5 egg whites (room temperature)
1 whole egg
1 tablespoon cornstarch or flour
2 tablespoons cold water
6 tablespoons lemon juice (8 to 10, if you like it tart)
Dash of turmeric for deeper color (optional)

Place shank and water in large soup pot and bring to a boil. Simmer until meat is cooked. Remove shank from pot and cut meat into small pieces. (This meat will substitute for the prohibited liver, which is high in cholesterol.) Strain broth. Refrigerate in order to be able to scrape away fat. While broth is cooling, prepare egg-lemon sauce.

In skillet, cook onions, parsley and dill in vegetable spray. Cook until onions are soft but not brown.

Egg-lemon sauce | Beat egg and egg whites together. Make a paste of cornstarch (or flour) and water. Add to beaten eggs. Add lemon juice and a slight dash of turmeric for deeper color if desired.
Serves 6.

Note - To reheat soup after refrigeration, do so in a double boiler or place soup pot in a larger pot of boiling water. Do not reheat directly or eggs will curdle.
From "Low Cholesterol Greek Heritage Cookbook"
Greek Chicken

1/4 cup flour
1/2 teaspoon salt
1 tablespoon oregano
3 tablespoons olive oil
4 skinned and boned chicken breasts
1 (14 1/2-ounce) can diced tomatoes with garlic and onion
1/3 cup dry white wine or chicken broth
1 (2 1/2-ounce) can sliced ripe olives, drained
2 tablespoons capers, drained
1/4 cup crumbled feta cheese

Combine flour, salt and oregano in shallow dish, then dredge chicken in flour mixture. Heat oil in large skillet, cook chicken until brown. Drain. Add tomatoes along with wine or chicken broth, reduce heat. Simmer 10 to 15 minutes covered. Add olives and capers, cook until thoroughly heated. Sprinkle with feta cheese.
From "Dining With Friends, A Coastal Guide to Entertaining,"

Shrimp with Feta (Garithes Me Feta)
1 large onion, chopped
3 green onions, chopped
2 garlic cloves
2 tomatoes, peeled and chopped
2 tablespoons parsley
2 tablespoons oregano
1 tablespoon olive oil
1/2 cup white wine
1 (8-ounce) can tomato sauce
1 1/2 pounds shrimp, shelled and deveined
1/2 cup Feta Mix (follows)
Dash of sugar
Chopped parsley for garnish
Vegetable spray
Salt and pepper, to taste

Wash shrimp and drain. Saute onions, garlic, tomatoes, parsley and oregano in vegetable spray and olive oil, adding wine as needed. Add tomato sauce, remaining wine, salt, pepper and sugar. Cover and simmer for 30 minutes. Add shrimp and cook until pink. Pour mixture into a 2-quart casserole. Top with crumbled Feta Mix. Bake uncovered in oven at 425 degrees for 15 minutes or until cheese melts. Sprinkle with parsley.
Serves 8.

Feta Mix
Mix equal parts of crumbled feta with equal parts of nonfat cottage cheese or yogurt cheese. Refrigerate. The pungent feta flavor impregnates the healthier cottage cheese or yogurt cheese. Use in cooking where feta mix is required.

Variation - For pasta shrimp feta casserole, cooked pasta (8 ounces) can be placed on the bottom of the casserole, then topped with onion-shrimp mixture and the feta mix.


Greek Spinach and Rice
1 pound fresh spinach
1/4 cup vegetable oil
2 cups water
1 cup raw rice
Salt and pepper, to taste
1 medium onion

Slice onion and add to large pot with vegetable oil. Cook until slightly transparent. Add spinach that has been washed. Add 2 cups water, 1 cup rice and salt and pepper. Cook over medium heat until rice is done. Stir several times to prevent sticking.
From "The Panther Band Cooks," Carolina Forest High School Band cookbook
Greek Lemon Roasted Potatoes
4 pounds (8 medium) russet baking potatoes, peeled and quartered
1 tablespoon dried oregano
1 tablespoon salt
1 cup water
1/2 cup olive oil
1/2 cup freshly squeezed lemon juice (3 lemons)
1/4 teaspoon freshly ground pepper

Heat oven to 500° F.. Place potatoes in a 10-by-15-inch baking dish. Add 1 cup of water, olive oil, lemon juice, dried oregano, salt and pepper. Toss potatoes until well-coated. Bake uncovered about 50 minutes, until fork-tender and brown on the edges. Turn potatoes halfway through for even browning; add water if all the liquid has been absorbed.
Koulourakia (Greek Butter Cookies)
1 cup sweet butter
1/4 cup shortening
1/4 cup vegetable oil
1 3/4 cups sugar
2 eggs
1 teaspoon vanilla
1/2 cup orange juice
1 tablespoon whiskey
1 teaspoon baking powder
8 cups flour
Preheat oven to 375 degrees.
In a large bowl, cream butter. Add in shortening and oil and beat on medium speed until fluffy. Add sugar and beat for about 10 minutes.
Add eggs and beat well. Add vanilla, orange juice and whiskey, and beat until well combined.
In a separate bowl, sift together baking powder and flour. Gradually stir in the flour mixture to the batter. Knead the dough well.
Pinch off about a small piece of dough, a couple tablespoons worth. On a floured surface, roll dough into a 5-inch long and 1/2-inch thick rope. Shape rope into a circle, an "S" shape, a ribbon, twists, whatever you desire.
On a greased cookie sheet, place cookies 1 inch apart. Bake for 10 to 13 minutes until golden brown. Cool completely on a rack.
Store in an airtight container at room temperature.
[Easter Candy Recipes] [Easter Brunch Recipes] [Easter Salad Recipes] [Easter Bread Recipes] [Easter Side Dish Recipes] [Easter Dinner Recipes] [Ham Recipes] [Easter Desserts] [Home]
Razzle Dazzle Recipes