Easter Recipes from Razzle Dazzle Recipes
Hippity Hop Bunny Cake Recipe
"Your Source for Easter Recipes Online"
Hippity Hop Bunny Cake
2 1/4 C. Baker's Angel Flake Coconut

Red Food Coloring

2 (9-inch) round cake layers

1 tub (8 oz.) Cool Whip

Assorted Candies for garnish
Cut one layer; arrange the other layer as shown below. Place the bow tie at the bottom of your cake head and the ears at the top of the cake head. Frost with Cool Whip. Tint 1/4 cup coconut pink with red food coloring. Sprinkle on the inside of each ear. Sprinkle cake with remaining coconut on the head and ears. Do not put coconut on the bow tie. Decorate the Cool Whip covered bow tie with jelly beans and use licorice as the whiskers and outline of the rabbit lip. Place some sort of rounded soft round colorful candy for the eyes and nose. You may place jelly beans on top or in the soft candy in the eyes, nose and middle of the bow tie.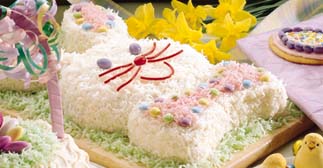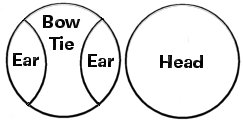 Source: Baker's Coconut

Razzle Dazzle Recipes