Razzle Dazzle Recipes
"Your Source for Thanksgiving Recipes"
Squash with Cider Glaze Recipe

2 acorn squash, halved and seeded
1 1/2 C. apple cider or apple juice
1 C. water
2 t. balsamic vinegar
Salt and freshly ground pepper, to taste

Preheat oven to 350 F. Into an ovenproof baking dish that will comfortably hold squash, pour in enough water to reach a depth of about 1 inch. Place squash halves cut-side down in dish. Bake 15 minutes.

Meanwhile, in a nonstick saucepan, combine cider, 1 cup water and vinegar. Bring to a boil over high heat and, stirring occasionally, allow mixture to reduce to about half, about 12 minutes.

Remove squash from oven and carefully turn cut-side up with tongs or tablespoons. Using a fork, prick the interior all over. With a small brush, coat inside of squash with some of the cider mixture. Lightly sprinkle with salt and pepper. Return squash to oven to continue baking.

Repeat brushing on cider mixture every 10 to 15 minutes until squash is almost fork tender, about 60 to 75 minutes, depending on oven and size of squash.

During the last minutes of baking, cook the cider mixture over high heat until reduced to a thick, glaze-like sauce, about 5 minutes. When squash are fork tender, remove from oven. Carefully transfer them to a serving platter or individual plates. Brush squash with glaze, allowing a little to pool in the bottom of each cavity. Serve immediately.

Makes 4 servings.
Back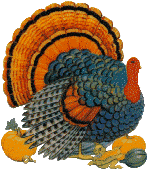 Home

Razzle Dazzle Recipes





http://www.razzledazzlerecipes.com

Don't forget to visit our other Recipe site at
That's My Home

Happy Thanksgiving!