Razzle Dazzle Recipes
Nantucket Corn Pudding Recipe
"Your Source for Thanksgiving Recipes"
Nantucket Corn Pudding Recipe
2 large eggs
1 C half-and-half (fat free is fine)
3/4 t. salt
1/8 t. ground white pepper
Pinch of nutmeg
4-1/2-5 C. frozen corn kernels, divided
3/4 C. crushed oyster crackers
3 T. unsalted butter, melted, divided
2 - 3 oz. sharp Cheddar cheese, grated (1/4 - 1/3 C.)
Paprika

Preheat oven to 350°F. and grease a medium baking dish.

In a large bowl, whisk together eggs, half-and-half, salt, white pepper and nutmeg. Mix in corn, 1/2 cup of crackers and 2 tablespoons melted butter. Spoon pudding into prepared baking dish and scatter cheese over it. Mix together remaining crackers and butter and sprinkle over the cheese. Dust with paprika.

Bake the pudding for 45 to 50 minutes, until puffed and golden brown, with crusty edges, but a soft center. Serve hot.
Yield: 6 servings
Back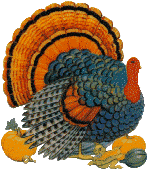 Home

Razzle Dazzle Recipes





http://www.razzledazzlerecipes.com

Don't forget to visit our other Recipe site at
That's My Home

Happy Thanksgiving!