Razzle Dazzle Recipes
"Your Source for Thanksgiving Recipes"
Cranberry Almond Muffins Recipe
2 C. flour
1/2 C. brown sugar
1/4 C. sugar
2 t. baking powder
1 t. salt
1 1/4 C. milk
1/2 C. oil
1 egg
2 t. almond extract
1 C. frozen cranberries, rinsed and chopped
1/3 C. slivered almonds
A little extra sugar for topping

Preheat oven to 350°F. Grease a 12-cup muffin pan.
Combine flour, both sugars, baking powder and salt in a medium mixing bowl. Combine milk, oil, egg and almond extract in a separate mixing bowl. Add liquid ingredients to dry, stirring just until dry ingredients are moist. Stir in cranberries (cranberries don't need to be completely thawed out, just enough to be chopped).

Fill muffin cups 3/4 full with batter. Sprinkle tops of muffins with a little sugar and the almonds. Bake for about 25 minutes or until golden brown. Cool 5 minutes in the pan.
Makes 12 muffins.
Back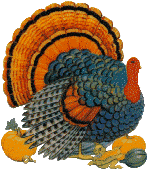 Home

Razzle Dazzle Recipes





http://www.razzledazzlerecipes.com

Don't forget to visit our other Recipe site at
That's My Home

Happy Thanksgiving!