Razzle Dazzle Recipes
"Your Source for Thanksgiving Recipes"
Fresh Cranberry-Orange Relish

2 navel oranges
2 1/2 C. fresh cranberries
3/4 C. sugar

Peel the zest of the oranges and set aside. Peel away the remaining white membrane and discard. Chop oranges and set aside. Rinse and sort cranberries and set aside.

In a food processor with a sharp blade, place the orange zest with the sugar. Pulsate until zest is ground fine. Add cranberries and chop coarsely. Pour mixture into a bowl, and add oranges and toss.

Keeps refrigerated for up to 4 weeks.

Makes about 3 cups.
Back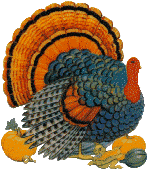 Home

Razzle Dazzle Recipes





http://www.razzledazzlerecipes.com

Don't forget to visit our other Recipe site at
That's My Home

Happy Thanksgiving!